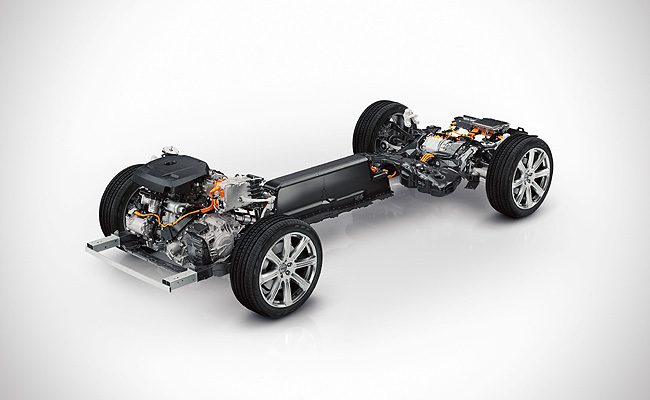 When the all-new Volvo XC90 goes on sale later this year, it will be the cleanest and most powerful sport-utility vehicle with an output of 400hp but with carbon-dioxide emissions of just 60g/km. "There has never been an SUV offering this level of power this cleanly," the Swedish carmaker claims.
"There are no compromises when you drive an all-new XC90," said Volvo senior vice president for research and development Peter Mertens. "In the past, you could either have power or low carbon-dioxide emissions. But with the all-new XC90, you can have both."
At the top of the XC90 range is the Twin Engine T8, which is "a plug-in electric car, hybrid car and high-performance car rolled into one."
In normal driving conditions, the T8 utilizes a 2.0-liter, four-cylinder supercharged and turbocharged Drive-E gasoline engine that powers the front wheels while a 60kW (80hp) electric motor drives the rear wheels. At the push of a button, the SUV runs purely on electric power with a range of around 40km. When needed, the gasoline engine and the electric motor can combine to produce 400hp and 640Nm.
The all-new XC90 will also be available with one of two diesel engines: the D5 twin-turbo that produces 225hp and 470Nm and has a fuel consumption of 16.67km/L; and the D4 turbo that puts out 190hp and 400Nm with a fuel mileage of 20km/L.
Continue reading below ↓
Recommended Videos
To be made available as well are two gasoline-engine options: the T6 turbo with a supercharger and turbo with 320hp and 400Nm; and the T5 with 254hp and 350Nm.
"With our new Drive-E powertrains, we have created a family of intelligent gasoline and diesel engines with power curves that give exciting drivability and at the same time deliver world-beating fuel economy," Mertens added. "With seven people in the new XC90, carbon-dioxide emissions per person and kilometer are outstandingly low."