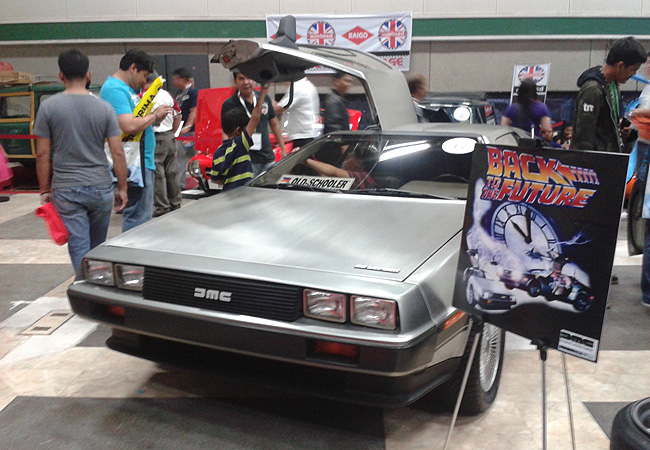 If you went to the 2014 Manila International Auto Show, you likely saw the DeLorean DMC-12 on display near the exit of the Philippine Trade Training Center, which is adjacent to the World Trade Center in Pasay City.
Of course, we had to ask about the car, and according to its handler at the show, Oliver Corpus, this particular DeLorean had been imported into the Philippines in 2010, with its shipping and registration costs reportedly reaching P1 million.
Corpus added that the car is practically in its original state, without anything having to be restored. The only aftermarket add-on that we saw--at least inside the cabin--was the Blaupunkt gooseneck equalizer. In addition, the car had hardly ever been driven, even by its original owner in the United States, with the odometer supposedly registering less than 50 miles (80km).
According to Corpus, he knows of only three DeLoreans in the country, with one reportedly being owned by a guy named Danding Cojuangco and the other one by an owner in Subic.
Corpus also let it slip that the owner was selling the DeLorean for P3 million. Asked why the owner was selling it just a few years after acquiring it, we were told that the car was simply sitting in the garage and taking up space.
Continue reading below ↓
Recommended Videos
One funny anecdote during our conversation with Corpus was that nearly everyone who stopped by the car to look at it asked him if the vehicle was finished, pointing out that it lacked any paint since the stainless-steel body panels were exposed. What they didn't know was that it was an intentional design feature for all DeLoreans that left the factory when it was still being manufactured from 1981 to 1983. Also, it seems they missed the part in the first Back To The Future movie when it was explained that the stainless-steel body helped with the car's time-travel capability.
Now, if only this unit came with a flux capacitor.