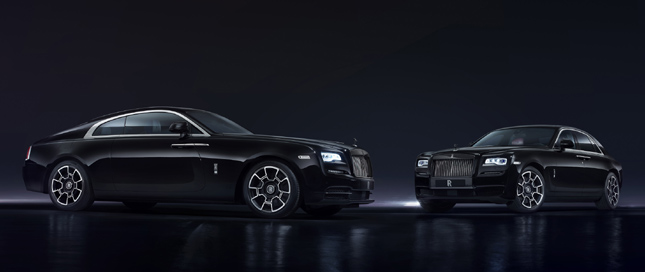 Rolls-Royce cofounder Charles Rolls was 27 years old when he first met Henry Royce, and the two started to co-build an ultra-luxury British car company. He didn't live long, dying in an aircraft accident a month before he turned 33.
A century and 12 years later, the company he cofounded designs Black Badge, a model line that pays tribute to "the young in a hurry, driven by their restless spirits to change the world in their own way." If that PR-ish definition of a target audience seems vague, the real-life pegs include Charles Rolls himself and fashion designer Yves Saint Laurent. So the young, successful and driven ones.
Launched at the 2016 Geneva International Motor Show, the Black Badge is a permanent bespoke series of the ultra-luxury brand. The Ghost Black Badge and Wraith Black Badge represent a "significant brand transformation," said Rolls-Royce sales and marketing director Fintan Knight in an exclusive phone interview with TopGear.com.ph.
The carmaker's designers and engineers made the designs of the Ghost and the Wraith darker and their engines more powerful to appeal to the younger crowd. The Spirit of Ecstasy was transformed into high-gloss black. The Double R badges are now silver-on-black (instead of the usual black-on-silver).
Continue reading below ↓
Recommended Videos
A 6.6-liter V12 engine mated to an eight-speed automatic transmission propels the Ghost Black Badge. Despite having 40 more horses and 60Nm more torque than the regular Ghost, the 603hp, 840Nm car still promises to deliver a "magic-carpet ride." The Wraith Black Badge fastback coupe, on the other hand, has 870Nm of torque, 70Nm more than the standard Wraith.
Thanks to computerized smart electronics, intuitive throttle response is found on both Black Badge models. How does this work? From 25% throttle, the transmission holds the gears longer, shifting gear 300-500rpm higher in the rev range, depending on the gear. The Wraith Black Badge revs up to 6,000rpm before each gear change "when the throttle senses that it is at 80% to 100% open." As a result, drivers experience a more direct throttle response and a more exciting drive.
Because they're equipped with more power and torque, the Black Badge models also come equipped with stronger braking. The front brake discs' diameter is longer by an inch. Moreover, when decelerating or braking, the transmission downshifts a few rpm sooner.
If you fancy a Ghost or a Wraith but do not want to be labeled tito or tita, then the Black Badge models are for you. Knight revealed that these models will make their way to Asia later this year.