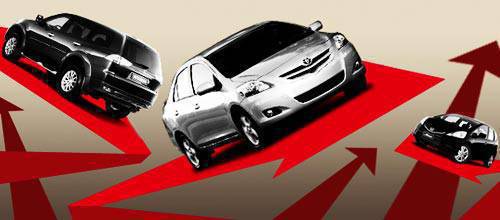 The local automotive industry continued to enjoy robust sales in May due to consumers' high appetite for passenger cars and commercial vehicles.
Data from the Chamber of Automotive Manufacturers in the Philippines, Inc. (CAMPI) showed sales last month reached 13,995 units, bringing the total car sales from January to May to 66,958 units. The sales figure for the first five months of the year is 36.6 percent higher than the sales booked in the same period last year.
Passenger car sales grew 29.8 percent while commercial vehicle sales ballooned by 40.5 percent in the past five months.
"The stronger-than-expected growth of over 40 percent for the commercial vehicle segment resulted in shortage of supply for some models," CAMPI president Elizabeth Lee said. "Supply is trying to keep up with the demand."
Continue reading below ↓
Recommended Videos
Bulk of the sales on the commercial vehicle side came from the segment for pickup trucks, sport-utility vehicles (SUV) and vans. Lee noted, however, that there was a shortage of supply for select light commercial vehicles resulting in the month-on-month decline for SUV and Asian utility vehicle sales.
"We continue to expect relatively robust sales for the year with supply trying to keep up with the rising demand," Lee added.
Toyota Motor Philippines continued to lord over the industry with total sales reaching 21,397 units in the first five months of the year. It is followed by Mitsubishi Motors Philippines with 12,891 units and Hyundai Asia Resources, Inc. with 7,803 units. 
Philippine car sales as of May 2010
YTD ranking
Car company
January to May 2010
January to May 2009
May 2010
May 2009
13
Asian Carmakers Corp. (BMW)
224
201
33
33
12
CATS Motors
335
Data unavailable
82
Data unavailable
8
Columbian Autocar Corp.
2,331
1,270
452
212
20
Columbian Motors Corp.
2
102
0
27
18
Dreamco
60
23
5
5
16
Focus Ventures, Inc. 
128
Data unavailable
4
Data unavailable
6
Ford Motor Co. Philippines, Inc. (+Mazda)
3,693
2,610
744
506
11
The Covenant Car Company (Chevrolet)
730
648
150
135
4
Honda Cars Philippines, Inc. 
7,373
7,164
1,483
1,288
3
Hyundai Asia Resources, Inc. 
7,803
4,001
1,551
883
5
Isuzu Philippines Corp.
4,096
3,250
760
699
19
MAN Automotive Concessionaires Corp.
36
4
0
0
2
Mitsubishi Motors Philippines Corp.
12,891
8,750
2,703
2,005
10
Nissan Motor Philippines, Inc. 
1,079
719
206
176
15
PGA Cars, Inc. (Porsche/Audi)
190
121
43
22
14
Pilipinas Hino, Inc. 
217
102
49
31
17
Scandinavian Motors Corp. (Volvo)
121
105
23
24
9
Suzuki Philippines, Inc. 
1,562
915
296
242
1
Toyota Motor Philippines Corp.
21,397
17,080
4,826
3,779
7
Universal Motors Corp. 
2,690
1,936
584
383


Total cars sold
66,958
49,001
13,995
10,450
Data source: Joint CAMPI and Truck Manufacturers Association sales report