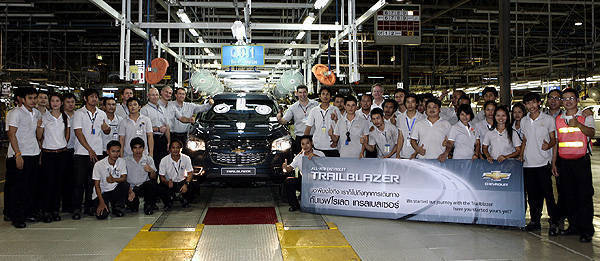 Production of the all-new Chevrolet Trailblazer has begun at the American carmaker's assembly plant in Rayong, Thailand.
The first Trailblazer to roll out of the production line was the range-topping LTZ variant, which comes with a 2.8-liter Duramax turbodiesel engine. Based on the same global body-on-frame midsize truck architecture as the Colorado, the seven-seat Trailblazer "features premium ride comfort and handling dynamics for urban and highway driving, matched by superior off-road capabilities."
"The Trailblazer is strong and capable, ready for rugged off-road conditions but equally well-mannered for city and long distance road trips," said Martin Apfel, president of General Motors Thailand and Southeast Asia. "It's yet another world-class Chevrolet product that demonstrates the capability, commitment and attention to detail of our dedicated Thai workforce."
The Trailblazer, though, will be sold first in Thailand before it is exported to more than 50 markets globally, including Southeast Asia.
"Production is now getting into full swing," shared Apfel. "Since May this year, we have added a third shift to our assembly and powertrain plants. The increase in production isn't just to meet customer orders for the Trailblazer, but also to address increasing demand for the Colorado truck, which we have started exporting earlier this year. At the same time, demand for other models is also growing. This will be a very busy year for Chevrolet."
ADVERTISEMENT - CONTINUE READING BELOW ↓
Since Chevrolet Philippines could launch the Colorado pickup truck by July, how soon do you think our local distributor could bring in the Trailblazer?
ADVERTISEMENT - CONTINUE READING BELOW ↓
Recommended Videos