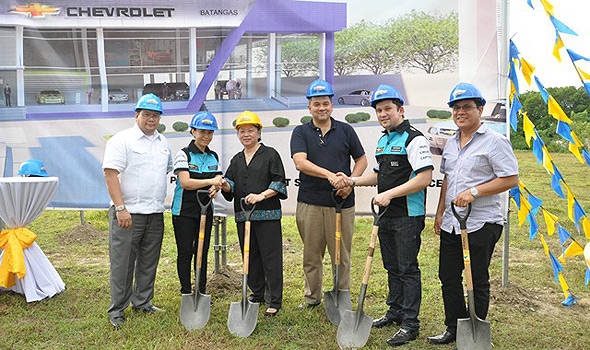 Chevrolet, through its Philippine-market distributor, The Covenant Car Company Inc. (TCCCI), is expanding its presence in the southern part of Luzon as it recently broke ground for its newest dealership located in Batangas City, which will be operated by Juno Cars.
"TCCCI is very excited to partner once again with Juno Cars in this business venture," said Atty. Albert Arcilla, president and managing director of Chevrolet Philippines (TCCCI). "We have always believed in their strengths and capabilities in carrying the Chevrolet brand. With Juno's vast knowledge and experience, we are confident that our partnership will provide the city of Batangas the best quality service that it demands."
Juno Cars is no stranger to the Chevrolet brand, having carried it for more than 11 years through its four existing dealerships: Chevrolet Alabang, Chevrolet Laguna, Chevrolet Shaw and Chevrolet Pasig.
"We believe that there is great potential for the Chevrolet brand in the city of Batangas," said Juno Cars group general manager Chito Jamias. "We realize its rapid economic growth and would like to be part of it. We are also optimistic that the market will show its support to the brand as it displays several similar characteristics to the city. Both are rich in history, hardworking and on the rise."
Continue reading below ↓
Recommended Videos
The opening of Chevrolet Batangas will position TCCCI closer to its goal of opening eight new dealerships before the end of the year, bringing the total number of dealerships nationwide to 24.