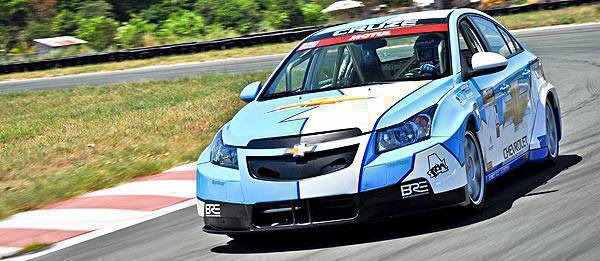 Chevrolet had a lot to celebrate last weekend as the Cruze not only captured both the manufacturers' and drivers' titles in the World Touring Car Championship (WTCC) in Macau, it also claimed two podium finishes in the Philippine Production Car Championships at the Batangas Racing Circuit.
As Yvan Muller captured the WTCC drivers' title to seal Chevrolet's win in Macau, Cyrille Fontaine drove the Cruze Philippine Touring Car (PhTC) to third place in the November 20 race, and to his first win on November 21. This boosted the Chevy Cruze PhTC's chance to score more points as the final leg of the race series winds down in January 2011.
The Cruze PhTC's victory is a big achievement for Blanco Race Engineering (BRE), which is on its maiden season.
"This victory is the result of the team's hardwork and passion for the brand," BRE team founder Francisco "Pacho" Blanco said. "We are grateful for everyone that worked hard for it. This new season for Chevy and BRE gives us more excitement which strengthens our bond that will definitely be beneficial as we continue our participation in the many Philippine races in the near future."
The Cruze PhTC is a manufacturer-backed race car in the Philippines that is presented by Chevy Motorsports Program of Chevrolet Philippines--the Covenant Car Company's motorsports arm in partnership with BRE.
Continue reading below ↓
Recommended Videos
"We, Chevrolet Philippines, couldn't have been more proud of Chevy's accomplishments in the racing circuit both international and local," company president Atty. Albert Arcilla said. "This championship further reiterates the power and performance of the Chevy Cruze, dominating not just the highway but on the racetrack as well! We congratulate the team that made the back-to-back wins possible. We look forward to more success for Team Chevrolet."