The Covenant Car Company Inc., the exclusive distributor of Chevrolet vehicles in the Philippines, is right on track as far as its expansion program is concerned. TCCCI has just held another groundbreaking ceremony for another new dealership: Chevrolet Commonwealth Avenue.
Situated at a premier automotive row in Quezon City, the new Chevy dealership will rise on a 2,374sqm property along the busy thoroughfare. According to TCCCI, it will be "the largest Chevrolet dealership in Metro Manila to sport the American car brand's global dealership design."
This development affirms that TCCCI is well on its way to meeting its goal of having "24 dealer partners" before the end of 2012, "to complement the planned expansion of its passenger-car and commercial-vehicle lineup in the Philippines." The target number doubles the 12 Chevrolet dealerships that TCCCI inherited when it took over management of the Chevy brand in 2009.
Chevrolet Commonwealth Avenue is owned and operated by Ark Diversified and Automotor Group. "We have seen the rapid expansion and development of Chevrolet in the Philippines, and we feel excited and privileged to be part of the creative and dynamic Chevrolet family," said company CEO Ryan Jarina. "From the onset of our decision to support Chevrolet, we saw God work in tandem with us every step of the way. We are confident that with TCCCI's support, we will make a significant footprint in the market and make every customer feel like a part of our family."
ADVERTISEMENT - CONTINUE READING BELOW ↓
"We are very enthusiastic about having Ark Diversified and Automotor Group join our Chevrolet family, especially given the group's rich experience in selling commercial vehicles in the Philippines," said TCCCI president and managing director Atty. Albert Arcilla. "This is an exciting time for Chevrolet with our upcoming new vehicle launches, and with this new partnership, we are confident that more and more people will begin to love Chevy."
Chevrolet Commonwealth Avenue is scheduled for completion before the end of the year. Meanwhile, a temporary showroom near the site and along Commonwealth Avenue will be operational by the end of this month.
Photo below shows Atty. Arcilla, TCCCI executive director Selene Lee Yu, and Jarina during the groundbreaking ceremony.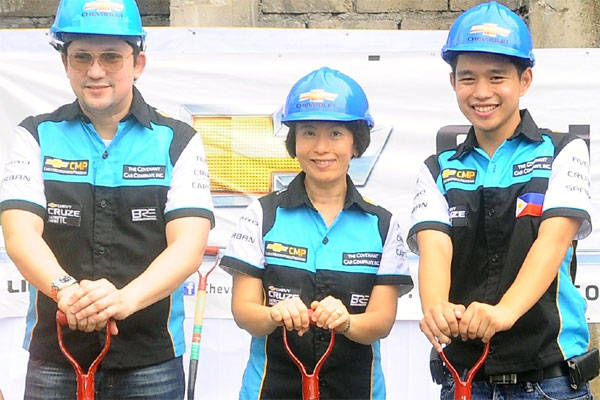 ADVERTISEMENT - CONTINUE READING BELOW ↓
Recommended Videos