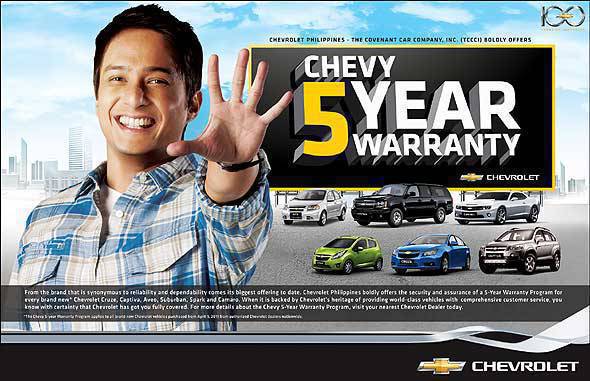 Chevrolet Philippines (The Covenant Car Company Inc.), exclusive distributor of Chevrolet vehicles and parts in the country, just launched its latest testament to the quality of its vehicles: a five-year warranty program for Chevy buyers.
"On every Chevrolet purchase, not only will you be coming home with a car of top-quality, you will also be assured of enjoying your dream Chevy vehicle worry-free for a longer than usual time," Chevrolet Philipipines said in a statement. The Chevy five-year warranty program starts on April 1.
Chevrolet defines its warranty as a written guarantee that a client is buying a product of quality. The company that issued the warranty "is committed to repair or replace parts of a defective product in cases where this same quality has come into question." Warranties issued for cars sold in the Philippines usually run only for the first two to three year's of a vehicle's life.
"Chevrolet Philippines is willing to go the extra mile to provide our customers with an experience of sustainable mobility and low cost of ownership through five years of assured quality and peace of mind," said Atty. Albert Arcilla, chief operating officer and managing director of Chevrolet Philippines said.
Chevy Philippines said the extended warranty is just an added perk to its clients.
"This shows that Chevrolet is confident in the quality and workmanship of each vehicle that it releases to the public," the company said. "And with this new move, Chevrolet wishes the same confidence to also be felt by every Chevrolet owner out there by assuring product quality even on the 4th and 5th year of ownership."
Will a five-year warranty program make you rush to the nearest Chevrolet showroom?