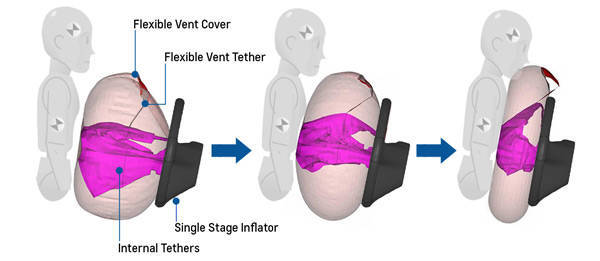 Chevrolet will introduce in the 2013 Cruze an industry-first driver-side airbag that uses a flexible venting technology "designed to deploy more efficiently while providing equivalent crash protection of more expensive and complex airbag systems."
Unlike the more complex dual-stage airbags that use one inflator for low-speed crashes and another for high-speed crashes, the Cruze's new single-stage "smart airbag" uses one lower output inflator to manage both low-speed and high-speed crash forces. Most important, the more compact, lighter system's flexible vent reduces the risk of inflation-induced injury "by allowing the driver's forward momentum to effectively push the air out and away."
"This new airbag technology is a smart way to manage crash forces, and is an integral part of the Cruze's continued success in safety testing," said General Motors' general director of vehicle safety and crashworthiness, Gay Kent. "The latest safety rating reflects the confidence we have in its new and carryover safety technologies and overall crashworthiness."
According to GM, its test showed that the single-stage driver airbag provides excellent cushioning for drivers of varied sizes in both low-speed and high-speed crashes. The National Highway Traffic Safety Administration recently tested the 2013 Cruze with the new airbag technology under its New Car Assessment Program, and gave it the maximum five-star overall vehicle score, the same rating the Cruze received in 2011 and 2012 when the compact car used a dual-stage airbag system.
Continue reading below ↓
Recommended Videos
The new, flexible venting driver-side airbag is the second one to be co-developed by GM and safety restraint supplier Takata following their collaboration in developing the front center airbag in September 2011.