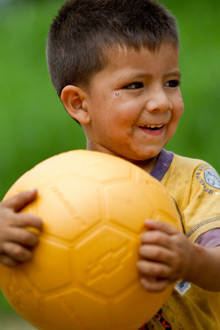 In the cutthroat world of automotive business, marketing counts for a lot. And marketing to a big slice of the world population counts for a whole lot. What better way, then, to promote a car brand than to align it with the world's most popular sport, football?
It's probably for this reason that Chevrolet is launching its "One World Futbol Project," which aims to give away 1.5 million "long-lasting footballs to target communities." The American carmaker has partnered with British football clubs Manchester United and Liverpool F.C. to ensure the campaign's success.
The virtually indestructible football, called One World Futbol, is made from PopFoam, "an extremely hard, nontoxic foam material." Chevrolet says the ball will never go flat. The ball's inventor, Tim Jahnigen, says it can last for 30 years.
Continue reading below ↓
Recommended Videos
Over here, Chevrolet Philippines (aka The Covenant Car Company Inc.) is set to donate 1,000 of these footballs to indigent children in 2013.
"We want to employ this program to help kids find inspiration in football," says TCCCI president and managing director Atty. Albert Arcilla. "Chevrolet believes that these balls can become a tool in helping kids play football better, develop their all-around skills and boost their confidence in life that could eventually help lead them to ensuring a better future for themselves."
Marketing may be a huge part of this project, but at least it's doing a world of good. Definitely a great way to welcome the New Year, Chevrolet.