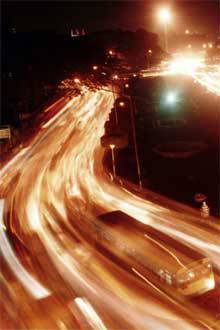 China's famous road bottleneck that has lasted ten days is gone, a blogger who went off to supposedly cover the so-called "monster traffic jam" said.
"Virtually overnight, local authorities had managed to disperse the congestion--about 120 miles northwest from Beijing--so by the time we reached the area, all we encountered were the garden-variety traffic jams here and there," MSNBC.msn.com's Adrienne Mong said in WorldBlog.
ADVERTISEMENT - CONTINUE READING BELOW ↓
There were toll booths, weighing stations and highway entrance ramps to ease congestion, Mong said.
The blog entry blames the ten-day traffic jam on the free-use of the National Expressway 110 (also known as the G110), where thousands of coal-carrying trucks ply. There's also an on-going roadwork for the Beijing-Tibet Expressway that runs parallel to the G110. Construction is expected to last until mid-September so the possibility of another "monster traffic jam" still exists.
Photo from SXC.hu
ADVERTISEMENT - CONTINUE READING BELOW ↓
Recommended Videos