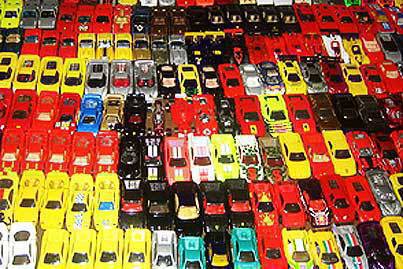 Many car aficionados started appreciating cars the moment they get a diecast car as a gift. Even Top Gear presenter James May said his love affair with cars started one morning when he was still a toddler and he woke up to find a Matchbox Aston Martin on his pillow.

Matchbox is just one of the popular brands. Other collectibles include Hot Wheels, Kyosho, Maisto, Minichamps, and Tomica. While the cars remained small, the ones playing and collecting them have grown over the years - but this does not mean their passion for the tiny cars has ebbed.

As if to recapture their youth, there are adults in the toy section of department stores jostling it out and sometimes even outnumbering the kids in lining up for the latest diecast car. These grown-ups include members of the Diecast Car Collectors of the Philippines (DCPH).

DCPH started in May 2004 as an offshoot of another miniature car collectors' group.

"(The old group) Miniature Wheels Club of the Philippines was on the up-and-up, but most of us were just a bunch of technophobic old coots who communicated by phone calls and mind-reading, combined with the efficiency and accuracy of reading smoke signals. What Miniature Wheels Club needed was a shot-in-the-arm of new energy, new blood, and new dynamism, the kind that only members of the next generation could provide," said lawyer Frank Kho, one of the DCPH's old-timers.

The group that started with just 50 people has grown with a membership of over 3,000 today. DCPH holds bi-monthly swap-meets that gather between 200 and 500 members. The group also joins car shows and toy conventions, and participates in corporate promotions for Richwell Trading, the local distributors for Matchbox and Hotwheels, and Bankee Trading; distributor of Tomica diecast cars.

Beyond diecast activities, DCPH conducts regular charity outreach programs at the Bigay Awa at Tanglaw sa mga Anghel Foundation, an orphanage in Marikina City.

DCPH wants to continue spreading the love for diecast cars, particularly to younger people.

"Diecast collection is still in the infancy stage here. We want to make more people especially the younger generation to be aware that collecting diecast cars can also be rewarding. Not only does its value appreciate but for some it is a stress reliever too," DCPH member Alex Dy said.

DCPH opens its doors to anyone interested in collecting diecast cars as it celebrates its 5th anniversary at the Nissan CRVI showroom along Don Chino Roces Avenue in Makati City on May 16. The event runs from 2 p.m. to 6 p.m. and will include activities like swaps, diecast contests and promos.
Continue reading below ↓
Recommended Videos