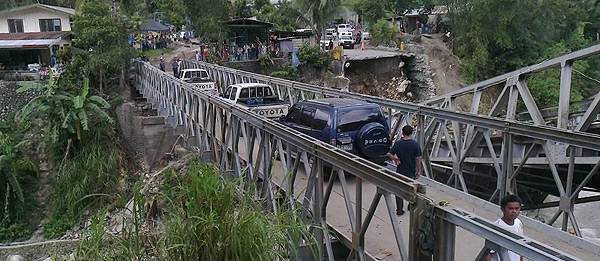 The Department of Public Works and Highways (DPWH) has finished the construction of a detour bridge in Ifugao Province in eight days after the heavy rains and strong river current brought about by Typhoon Pedring toppled the Burnay bridge that used to stand right beside it.
The single-lane detour bridge was opened to light vehicles and pedestrians on October 12 with the DPWH Cordillera Autonomous Region (CAR) Office and the Ifugao 1st District Engineering Office regulating the bridge's traffic to a maximum of 10 tons only.
Following the collapse of the Burnay bridge last September 27, DPWH secretary Rogelio Singson instructed the President's Bridge Program Office (PBPO), the CAR Regional Office and the Ifugao 1st District Engineering Office to join forces and undertake emergency repair works.
Despite the detour bridge now being opened, the DPWH still plans to reconstruct the Burnay bridge as the PBPO has supplied one set of Delta type double lane steel superstructure materials 54 lineal meters in length for it.
Originally planned to span 36 lineal meters, the detour bridge, which is made of steel modular Compact 200 materials, was extended to 52 lineal meters to set back both ends of the bridge due to the soft materials in the existing abutments and to ensure its stability.
Continue reading below ↓
Recommended Videos