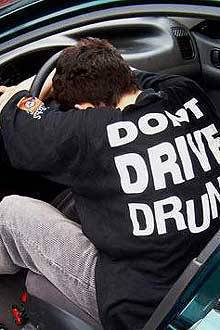 Lawmakers at the House of Representatives have approved on the third and final reading a bill that seeks to penalize motorists who are caught driving under the influence of alcohol and drugs.
The bill, authored by former President Gloria Macapagal-Arroyo who now represents the second district of Pampanga, is now known as the Driving Under the Influence of Alcohol, Dangerous Drugs and Similar Substances Act of 2011. It is co-authored by Rep. Emmeline Aglipay from DIWA party list and Rep. Romeo Acop from the second district of Antipolo.
Under the bill, violators may be penalized with a fine of not more than P20,000 and a month-long driver's license suspension.
The bill is aimed at giving the offense a legal structure to make sure incidents of drunk driving are reported and perpetrators are given due punishment.
"Each driver must realize that he has full personal and social responsibility in the event he drives under the influence of alcohol," Acop said.
A similar bill has been filed at the Senate level with Sen. Loren Legarda seeking a fine of as much as P80,000 for those caught driving while inebriated.
Do you think the P20,000 to P80,000 fine is enough? How much would you want a drunk driver to pay if you or your loved ones, God forbid, become a victim of this crime?
Continue reading below ↓
Recommended Videos
Photo from SXC.hu