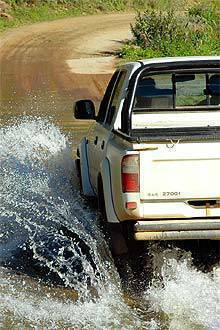 The Department of Social Welfare and Development (DSWD) is planning to buy 14 pickup trucks to beef up its aging fleet of 41 vehicles.
DSWD secretary Corazon Soliman said that of the 41 vehicles in the agency's fleet, 25 are already 10 to 20 years old.
"It is apparent that most or 61 percent of the vehicles should already be replaced," Soliman said in a Philippine Star article. "Even the vehicles aged six years, particularly those used to service beneficiaries in rugged and mountainous terrain, are also in need of constant repair."
Soliman added that the re-fleeting of the DSWD's vehicles is part of the agency's efforts to strengthen its capacity. The pickups--all four-wheel drive--will be used by the agency's regional offices whose beneficiaries are located in remote barangays that are located in rugged and undeveloped terrain.
According to Soliman, the DSWD is currently processing the bids for the supply of the 14 pickups and that the sealed bids will be opened on October 26. She added that the purchase of the new vehicles does not go against President Benigno Aquino III's call for austerity as the budget for the pickup trucks were approved as part of the 2009 budget under former president and now Pampanga representative Gloria Macapagal-Arroyo.
Continue reading below ↓
Recommended Videos
In what Soliman calls "the spirit of transparency," she revealed that the DSWD also has three Hyundai Santa Fe units, which were donated to the agency.
Photo from SXC.hu