Formula One (F1) is finally headed to Europe and everyone is eager to see how the teams deal with Brawn GP's superior pace.

A lot of credit to Brawn GP performance this season has been attributed to its double-deck diffuser. With the Fédération Internationale de l'Automobile's upholding the legality of its use, the rest of the F1 teams has announced plans to mount their own double-deck diffuser in the European leg of the 2009 season. And since the Spanish Grand Prix is the first stop in Europe... well, you get the picture.

As usual, Brawn GP is expected to be among the front runners at Circuit de Catalunya, home of the Spanish GP since 1991.

Jenson Buttons' drive in the Bahrain GP was superb, with hardly anyone posing a threat to his lead after the first pit stop. A different race strategy, though, saw teammate Rubens Barrichello finish at fifth, which means he has a lot of catching up to do if he's still aiming for the driver's championship at the twilight of his career.

The same can be said for Mark Webber. Now one of F1's elder statesmen, he still has no wins to his name. His irrepressible teammate, Sebastian Vettel, who is younger by eleven years, already has two under his belt. That he's been with Red Bull for three years while Vettel clinched the team's first win on his first season must rile the old-timer.

Team-wise, it's good to keep a close eye on Toyota to see if it employs the same light fuel strategy it used in Bahrain's qualifying session to blitz everyone else. WilliamsF1, on the other hand, may continue to trail the pack with its below par double-deck diffuser.

Ferrari has always done well in Catalunya but, considering its fortune so far, a race win on Sunday is almost impossible to imagine. If it unveils its updated aero package this weekend, every one may be up for a surprise.

McLaren continues to be confident about its KERS (kinetic energy recovery system) package but the team's performance remains to be seen considering the technical upgrades everyone else is expected to get. One thing's for sure though: McLaren will definitely play it clean thanks to their suspended three-race ban after the 'Liargate' scandal.

The Spanish GP is usually expected to be a boring leg. Teams favor the 4.655-kilometer Catalunya track during test runs and everyone is familiar with it already. Still, numerous fast bends requiring considerable downforce, changes in wind directions, and the teams' aero-package updates should spice up the race in tapas country.
Continue reading below ↓
Recommended Videos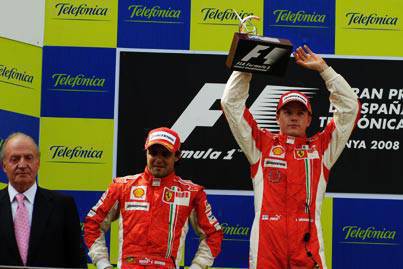 Ferrari dominated the 2008 Spanish GP. From left: The King of Spain, Juan Carlos I; and Ferrari drivers Felipe Massa and Kimi Raikonnen.