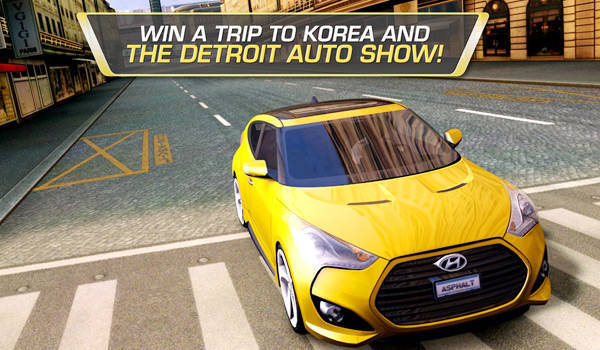 Who wants to do these things for free?
* Visit Hyundai's main headquarters in South Korea;
* Drive a real Veloster Turbo on Hyundai's test circuit; and
* Attend the 2013 Detroit Motor Show
What a stupid question, right? Of course, any car nut would drop everything to do every single one of these things. Well, you still have until November 25, Sunday, to vie for a chance to experience the above-mentioned activities absolutely free of charge.
How?
By downloading the mobile-phone racing game Asphalt 7: Heat and playing it. Developed by leading software company Gameloft, the game runs on iOS and Android phones and is free for download through the duration of this contest.
This Hyundai promo is to celebrate the inclusion of the Veloster Turbo and the Genesis Coupe in the game, joining 60 other high-performance cars from various automakers. Gameloft says the Asphalt series has been downloaded more than 50 million times since its first launch.
The Hyundai contest is simple:
* Download and play Asphalt 7: Heat for free;
* Register or sign into a Gameloft Live! account;
* Select the "Asphalt Academy" mode;
* Get behind the wheel of the Hyundai Veloster Turbo; and
* Attempt to set the fastest time on the track
Continue reading below ↓
Recommended Videos
The player ranked first at the end of the challenge will earn the right to fly to Korea to visit Hyundai's headquarters and drive a real-life Veloster Turbo at the carmaker's test facility. He or she will also be invited by Hyundai to the 2013 Detroit Motor Show. How cool is that?
For more details, check out the app's Facebook page.
Remember, you only have a few days left to set the fastest time. Play the game now!