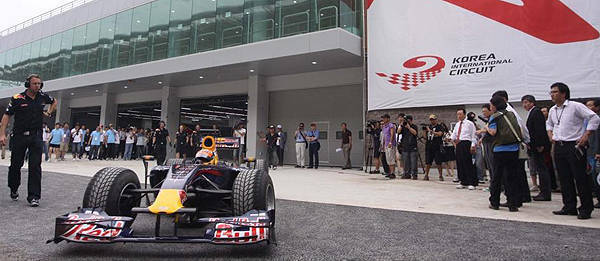 Construction of the Korean International Circuit (KIC) was completed in the nick of time and it has met the Fédération Internationale de l'Automobile (FIA) standards to host the first Korean Grand Prix from October 22 to 24.
After a two-day inspection of the track, FIA race director Charlie Whiting said the circuit is "satisfactory" and the FIA will issue the mandatory license to stage the race through the Korea Automobile Racing Association (KARA).
"We are delighted that all works are now finished to the complete satisfaction of the FIA, and we join the whole of Korea in welcoming the Formula One fraternity to the Korea International Circuit for the first time," said Yung Cho Chung, race promoter. "The KIC has been constructed to the highest standards, and will become the epicenter of motorsport in the country."
Designed by Hermann Tilke, the German architect responsible for seven of the 19 tracks used in the current F1 season, the Korean International Circuit features traditional Korean elements. The roof of the main grandstand, for example, resembles the eaves of the traditional Korean "hanok" houses.
The 5.615-kilometer track incorporates a partial street circuit and a 3.045-kilometer permanent race track. One of the track's highlights is the 1.2-kilometer straight, the longest straight of any current Formula 1 circuit in Asia.
Continue reading below ↓
Recommended Videos
The track can accommodate up to 130,000 spectators, including 16,000 people who can view the race from the main grandstand.
Construction for the circuit reportedly cost 88 billion won (more than P3.4 billion).
Photo from Red Bull Racing