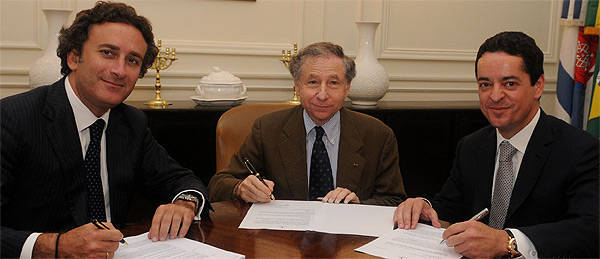 Electric formula race cars will soon be a reality as the Fédération Internationale de l'Automobile (FIA), the world's governing body for motorsports, has reached an agreement to license the commercial rights of the FIA Formula E Championship to Formula E Holdings (FEH).
Formula E is a new championship series featuring electric-powered Formula cars, and, according to the FIA, it "represents a vision for the future of the motor industry over the coming decades." The series will reportedly be open to any cars sanctioned as Formula E by the FIA, with FEH ensuring that a Formula E Car, which is based on the Formulec EF 01 prototype that's already in operation, is available for competing teams that are willing to race with it. FEH is headed by Barwa Addax racing team owner Alejandro Agag with London-based entrepreneur Enrique Bañuelos serving as the anchor investor.
"I would like to thank all the parties involved," said FIA president Jean Todt. "This new competition at the heart of major cities is certain to attract a new audience. We are pleased with this agreement with Formula E Holdings as they bring a very strong experience in motorsports. This spectacular series will offer both entertainment and a new opportunity to share the FIA values and objectives of clean energy, mobility and sustainability with a wider and younger audience as well."
Continue reading below ↓
Recommended Videos
Demonstration runs of the Formula E cars will start in 2013, with the official championship series being staged in 2014 and 10 teams and 20 drivers being eyed for it. FEH hopes to stage the Formula E series in the heart of the world's leading cities, with Rio de Janeiro being the first city to welcome the series and its proposed track being located near Marina de Gloria.
"We are very thankful to the Rio authorities, its mayor, Eduardo Paes, and its governor, Sergio Cabral, for the enthusiastic welcome they have given to our championship series," said Agag. "The sustainable and clean energy aspects of our project were immediately highlighted by them as values very much in line with the Rio de Janeiro of the future. We look forward to racing in this amazing city in 2014."