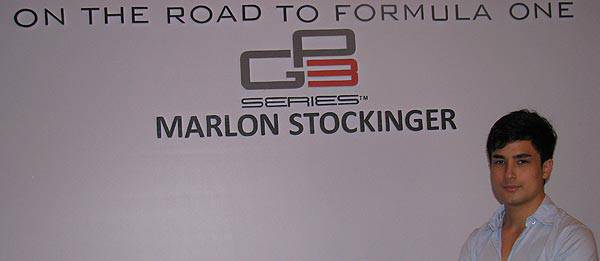 After securing his first win in Formula Renault in June 2010, Marlon Stockinger is one step closer to getting into Formula 1 as Atech Grand Prix has signed up the Fililipino-Swiss driver to occupy one of its three race seats in the 2011 GP3 Series.
According to Stockinger, the decision to run in the GP3 was a calculated move as the feeder series follows the F1 calendar and serves as its support race.
"I feel I've done all that I could do in Formula Renault so the logical choice was to join the GP3 Series," Stockinger said. "Since the GP3 Series supports F1, it gives us the biggest possibility to be noticed by the F1 teams, and in the end that's what we all want--to be noticed by the F1 teams and hope that they tap us to race for them in the future."
While running in a different series means having to learn the nuisance of a totally new car, Stockinger shrugs off the challenge as he has adapted to it quite easily.
"The GP3 car is not much different from the Formula Renault," Stockinger shared. "It only took me around 10 laps to become familiar with the car. It's a little bigger than the Formula Renault but other than that, I don't see any problems with it."
Continue reading below ↓
Recommended Videos
Stockinger admitted though that he might have a problem with two of the tracks in the GP3 Series calendar as he hasn't raced on those yet. To make up for that, he said that not only will he familiarize himself with the layout during practice sessions, he'll also be using F1 video games and McLaren's simulator, which his team has access to as an affiliate.
Atech Grand Prix is no stranger to Stockinger as he drove for the team in the past two seasons in Formula Renault.
"I'm really happy that Marlon is staying within the Atech family and progressing up the ladder with Atech CRS into GP3. His performances this season…confirms how much he has improved over the past 12 months and it's been a pleasure to work with him and see him mature into a front-running driver," said Atech CRS team principal David Hayle. "He's very well liked and a welcome addition to the team for 2011 and we look forward to seeing a continuation of his progress."
Like in any other race, Stockinger's driving coach Chris Wasserman said speed and consistency are the key for the Fil-Swiss driver to make a mark in GP3 and perhaps hopefully be drafted up into the final stepping stone of F1, the GP2 Series.
"Marlon has to be in the top three or top five during qualifying," Wasserman said. "Anything else, the race is practically over for him since he'll be going up against 30 other drivers."
Wasserman added that he believes Stockinger is the quickest Asian driver in the series, giving him an edge in winning.
With the 2011 GP3 Series kicking off in May as the F1 circus goes on its European tour, Stockinger is already busy preparing himself physically and mentally to make his family and countrymen proud of his achievements.
"All the sacrifices I have made to pursue my passion has led to this make-or-break point, and there's no turning back," Stockinger said firmly. "And now, more than ever, the next few races will not just be about me. Beyond fulfilling my dream, I also want to show the world that Filipinos can stand out and make their mark in the international racing arena. My vision is to solidly put the Philippines in the racing map."