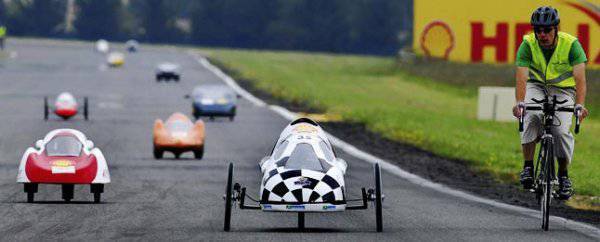 Three teams from the Philippines are gearing up to compete in the first Shell Eco-marathon Asia in Kuala Lumpur, Malaysia next year.
The teams from Don Bosco Technical College, Mapua Institute of Technology, and University of Santo Tomas (UST) will be competing against 140 other participants from all over Asia.
The competition aims to promote innovations in vehicle design and technology with the end goal of creating an energy-efficient means of transportation, which is especially relevant in these times of dwindling resources and economic crisis. Competitors may opt to enter either of the two categories: Prototype or Urban Concept. The former focuses more on aerodynamics and futuristic design to maximize fuel economy, while the latter puts more stress on road-worthiness.
Continue reading below ↓
Recommended Videos
During the formal introduction of the Philippine teams to the media on November 18, the preliminary designs for their competition entries were also previewed. All three teams will be competing in the Prototype category.
Team leaders Mark Lester Arrieta (Don Bosco), Jericho Paulo Rivera (Mapua), and Tim Mervin Orille (UST) were all candidly cryptic about their respective game plans, but did acknowledge that there are prevalent trends in their designs. The use of lightweight materials like carbon fiber is one. A three-wheel platform also looks to be the most promising in maximizing fuel economy.
As of the moment, their designs will still undergo constant revision, but the teams aim to finish the actual vehicles by the first quarter of 2010, so as to commence testing locally before the competition proper in Kuala Lumpur, where they will be vying for a grand prize of US$1,500 per category.
"The concept is simple: to design and build from scratch using the least amount of energy," said Roberto Kanapi, Pilipinas Shell Petroleum Corporation's vice president for communications. "It is Shell's contribution in encouraging the creativity and passion of the youth to help meet the energy challenge."
Shell's Eco-marathon fuel-economy student competition has been running in Europe for 25 years. It was launched in the United States in 2007 and will make its way to Asia in 2010.

View the gallery below to see photos of the Filipino participants in the 2010 Shell Eco-marathon Asia and to see entries from last year's competition.