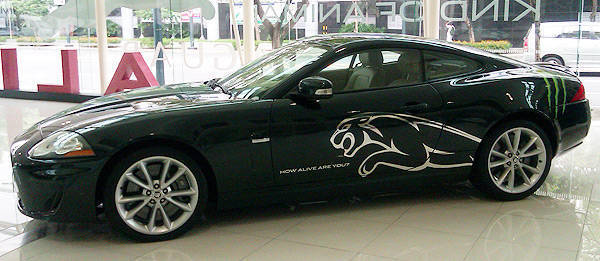 Drifting in the Philippine scene is dominated by modified Japanese cars. So, if you want to see a BMW, a Chevrolet Corvette, and a couple of Jaguar XKRs smoking some tires with the cars from the Land of the Rising Sun, you'd better head on to the Food Terminal Incorporated (FTI) complex in Taguig this weekend, September 22, as Jaguar Cars Philippines and Car Porn Racing will be staging the first-ever "Jaguar Drift Fest."
"In the Philippines, drifting has been steadily gaining popularity among racing enthusiasts," said Jaguar Cars Philippines executive director Marc Soong. "Jaguar wants to be at the forefront of this evolving motorsport which demands highly technical driving skills and extreme car performance."
Of the cars that are available locally, the Jaguar XKR is one of the few that can immediately go drifting right out of the box, Soong shared. Car Porn Racing's Ian King added that with the XKR's supercharged V8 engine putting out over 500hp through the rear wheels and its active differential control and dynamic suspension making it easy to throw the car from side to side, it "makes drifting a breeze."
"Drifting the XKR is amazingly easy," said King. "The XKR actually behaves like a smaller car but in reality, it'll put other cars in its class to shame. The nice thing about the XKR is that it offers the performance of a supercar in a practical package."
Continue reading below ↓
Recommended Videos
The Jaguar Drift Fest will also gather 30 of the country's top drift drivers like Audel Sison, Alex Perez, Atoy Llave, Raymond Ronquillo, Jet Mathay, and Ryan Agoncillo as they compete for the P30,000 cash prize.
The event will also see the drifters doing a 'drift train' with as many as eight drift cars following one another simultaneously around the course.
Monster Energy is also supporting the Jaguar Drift Fest, making it the first-ever public event to be supported by "the fastest-growing energy drink in the world."
And just to let you know, flying in to host the event is female drifter and Top Gear Philippines Traffic Stopper Melyssa Grace.
So if you've got nothing to do this weekend, check out the drifting Jaguar XKR at the first-ever Jaguar Drift Fest. Entrace to the venue costs P50, but children aged 12 years old and below can get in for free. The gates open at 8am.