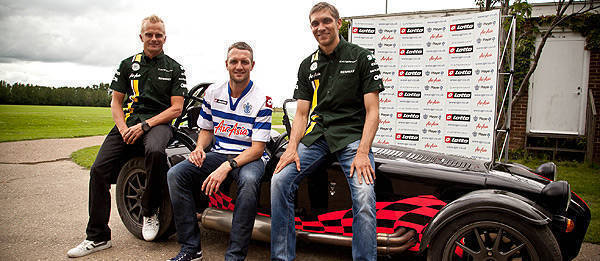 Caterham Formula 1 drivers Heikki Kovalainen and Vitaly Petrov recently gave Queens Park Rangers football players Djibril Cisse and Clint Hill a taste of what's it like to take part in the British carmaker's Caterham Drive Experience.
With the event held at the Queens Park Rangers' training ground, the two F1 drivers were behind the wheel of a Caterham 7 sports car. With the two footballers joining them, Kovalainen and Petrov performed a stunt numerous times that involved sliding the rear of the car to send a football into the back of the net as if the car was taking a penalty kick.
"You see these guys throwing an F1 car around on TV, but it's only when you're sitting next to them that it becomes real," said Hill. "They have unbelievable control behind the wheel, and their ability to flip the front end of the car to send the ball into the net was just incredible."
Caterham Cars, Caterham Formula 1, and the Queens Park Rangers are all owned by Tony Fernandes, who acquired both the carmaker and the Premier League team in 2011.
"It's always fantastic to let the F1 drivers loose behind the wheel of a Seven," said Caterham Cars chief executive Graham Macdonald. "As ever, they were clearly having a lot of fun and their talent was just spectacular. Judging by their faces, the players absolutely loved it too."
Continue reading below ↓
Recommended Videos
Though not everyone is as talented behind the wheel of a car as Kovalainen and Petrov are, the Caterham Drive Experience reportedly is open to anyone who has a driver's license, and, as part of the program, they can learn how to perform stunts such as drifting and donuts in one of Caterham's sports cars.
Don't you just wish we had something similar here?
If you're viewing this on a mobile device and can't see the video, please click here.