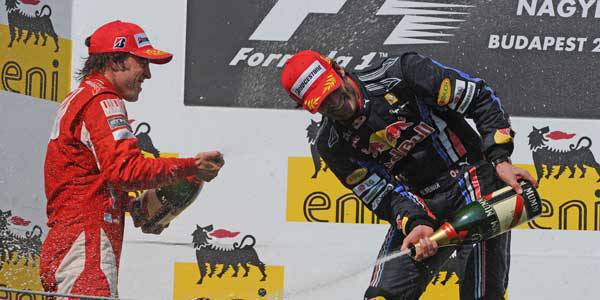 It's been nearly a month since the last Formula 1 race in Hungary, and motorsports fans around the world are starting to get really antsy. Fortunately, the long break after 12 races comes to an end this weekend as the track battle moves to the famous Circuit de Spa-Francorchamps in Belgium.
To recap, the Red Bull team is looking really strong right now, leading the constructors' championship with 312 points, followed by McLaren (304), Ferrari (238) and Mercedes-Benz (132). Sitting atop the drivers' standings, meanwhile, is Red Bull driver Mark Webber with 161 points. He is closely trailed by McLaren's Lewis Hamilton (157), teammate Sebastian Vettel (151), McLaren's Jenson Button (147), and the Ferrari duo of Fernando Alonso (141) and Felipe Massa (97). Including this weekend's Belgian Grand Prix, there are only six races remaining on this year's calendar (seven if the Korean GP pushes through).
While the Red Bull tandem is heavily favored to win the race--Webber has won four contests so far and Vettel has two under his belt--any of the McLaren and Ferrari drivers can realistically lift the first-place trophy on Sunday. After all, Hamilton, Button and Alonso have each won a pair of races this season. One factor going in favor of Alonso is that Ferrari seems to be particularly strong at the Spa circuit, having won the previous three races here (Kimi Raikkonen in 2007, Massa in 2008 and Raikkonen again in 2009).
ADVERTISEMENT - CONTINUE READING BELOW ↓
And so, as we head into the race weekend, a few questions need to be asked. Will Mark Webber win and continue to distance himself from the pack? Will Sebastian Vettel finally restore the order of things and show who the better Red Bull driver is? Will Lewis Hamilton regain the championship lead en route to a second title? Will Jenson Button secure his third win of the season and improve his chances of defending his crown? Will Fernando Alonso bring Ferrari back into the thick of contention? Will Felipe Massa pull off a surprise and seize his maiden victory this year? Will Nico Rosberg continue to dominate his legendary Mercedes teammate? Will Michael Schumacher get so bored again as to execute another daredevil maneuver? Will Rubens Barrichello stop whining? Will Bruno Senna finally make people notice he's, uh, Ayrton's nephew? Will Karun Chandhok make people notice he's actually part of the race?
ADVERTISEMENT - CONTINUE READING BELOW ↓
Recommended Videos
Photo from Ferrari