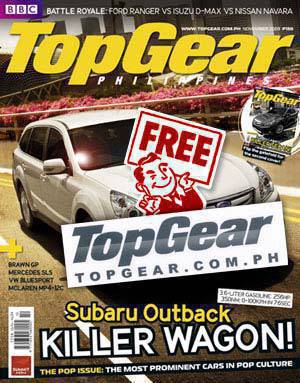 Grab a copy of the November 2009 issue of Top Gear Philippines, and get a free computer-cut sticker featuring the popular logo of your favorite car magazine as well as the address of its website (TopGear.com.ph). A computer-cut sticker means the letters are cut individually, so there is no more need for a whole plastic sheet to be stuck to the surface. In other words, only the letters will be attached, resulting in a classier and cleaner look.

The sticker is silver in color, perfect for most car colors. It goes well with tinted rear windshields and side windows. And because the sticker is computer-cut, you may opt to stick just the Top Gear masthead on a particular surface and then use the website address somewhere else.

Top Gear Philippines' November 2009 issue also boasts a special double gatefold cover featuring Subaru's Outback and Legacy. Hurry! Get a copy now before stock runs out.
Image by Raynand Olarte<br />