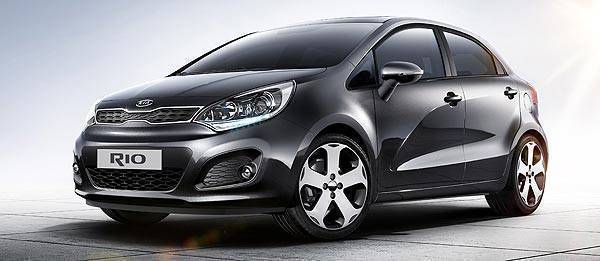 The all-new Kia Rio has finally been revealed and it now comes in five- and three-door hatchback variants--at least in Europe.
"The Kia Rio has always been successful, and with this new incarnation we have a car which is extremely attractive with a fresh feeling of sportiness--a car that people will want to buy for its looks, as well as its environmental credentials," said Benny Oeyen, Kia Motors Europe's vice president for marketing and product planning.
Low carbon dioxide emissions were one of the goals Kia's engineers have set for the Rio. With the vehicle achieving its emission target of just 85 grams per kilometer, this means the Rio has achieved a new industry-wide low, putting it ahead of all the other models in its class and even of all the vehicles currently on sale in the entire European market.
To help improve the all-new Rio's already efficient fuel consumption and class-leading emissions, Kia's engineers subjected the car to a drastic diet. As a result, although the all-new Rio is a significantly larger car than the model it will replace, its weight-gain has been kept to a minimum.
The all-new Rio will be available with a choice of four highly-efficient three- and four-cylinder engines with its output ranging from 69hp to 108hp.
Continue reading below ↓
Recommended Videos
Kia also said buyers can soon choose from a 1.1-liter mill that churns out 69hp and 162Nm of torque or the 1.4-liter engine that produces 89hp and 216Nm of torque--both diesel-powered engines.
Petrol-powered variants include a 1.4-liter Gamma engine with an output of 108hp and 136Nm of torque that accelerates it to 100kph in 11.5 seconds before reaching its top speed of 181kph. There's also the 1.25-liter Kappa engine that delivers 84hp and 117.8Nm of torque for a fuel economy of 4.8 liters for every 100 kilometers traveled.
Both five- and three-door variants of the Rio will be manufactured exclusively at Kia's Sohari plant in South Korea.
[gallery]798[gallery]