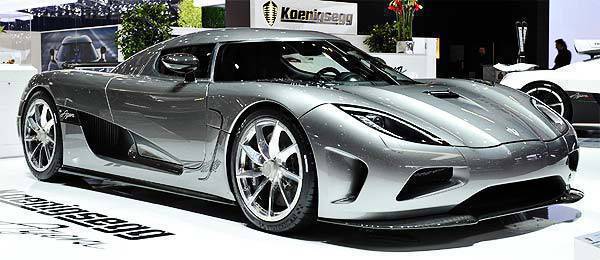 Koenigsegg has revealed the new Agera a year after pre-production versions of the Swedish manufacturer's next-generation supercar captured everyone's attention.
"Agera means 'to take action' in Swedish. It is also short for the ancient Greek word Ageratos which means 'ageless.' These two are very suitable meanings, for the car building the future of Koenigsegg," the car company said in its statement.
Koenigsegg develops its own engine in-house and for the Agera, it came up with a 5.0-liter V8 bi-turbo that delivers over 1,000Nm of torque and over 900hp on regular 95-octane fuel or a more staggering 1115hp on E85 bio-fuel.
Despite that impressive power output, Koenigsegg developed the Agera to be an environmentally-sensitive supercar that consumes only 14.7 liters of fuel for every 100 kilometers. Couple that average fuel consumption with the 80-liter fuel tank and you get a supercar with a long driving range. The Agera's tank is at the center so weight distribution does not change whether the tank is full or empty.
The Agera also uses a newly-developed seven-speed gearbox that features the world's first dual-clutch system for a single input shaft gearbox. To keep the gearbox light, compact, strong and reliable, Koenigsegg's new gearbox enables the use of a combination of a dry and wet clutch system on the Agera for class-leading shift times.
Continue reading below ↓
Recommended Videos
What makes the Agera very different from other supercars, however, is its cargo-carrying capacity of over 120 liters. It's even shaped to accommodate the one piece Agera roof/hardtop, which means the driver can choose to go open or closed at any given time during a trip. Since the Koenigsegg has engineered the roof to fit the car, it's very possible fit a set of golf clubs inside.
The Agera can also be fitted with a custom carbon-fiber Lightning Roof Box System from Thule. The roof box, which has an incorporated roof panel, replaces the normal roof in under 10 minutes. The standard roof may be stored in the luggage compartment so once the driver arrives at his destination, it may be put back in place. Still, Koenigsegg and Thule developed the roof box to ensure that it can be used even at speeds of up to 300kph, making it the fastest roof box in the world.
[gallery]813[gallery]