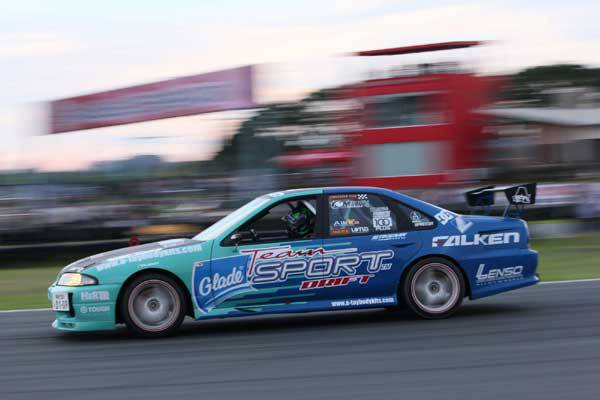 This weekend is a great time to be a motorsports fan. Not only is Formula 1 resuming its season with the Belgian Grand Prix, the 2010 Glade Sport Lateral Drift Pro-Am Championship is also holding its sixth and final leg on August 28-29 at the Eastwood City open parking lot. As you know, drifting is currently the fastest-growing motorsport discipline around the world, and the Glade Sport Lateral Drift series gives Filipino fans a chance to watch the action up close and personal.
As in the previous rounds, admission is free. And since the venue is just a spitting distance from Eastwood's malls and restaurants, you may simply sneak out and catch the tire-smoking battle while the missus is shopping for shoes and bags. Saturday is practice-and-qualifying day (beginning at 3pm), while Sunday is the official contest day (starting at 1pm).
The Glade Sport Lateral Drift Championship runs two divisions--amateur and professional. In the amateur division, the top three drivers all have an excellent shot at the title. The amateur standings are headed by TRS's Mike Tuason with 508 points, followed by Goodyear's Norman Agojo (485) and TRS's Bjorn Ongtiabok (477.5). Show-business personality Ryan Agoncillo of Team Yellow Cab also competes as an amateur and is fifth in the standings with 424 points.
ADVERTISEMENT - CONTINUE READING BELOW ↓
In the pro division, A-Toy Bodykits' Gio Rodriguez holds a slim lead with 504 points over Yellow Cab driver Alex Perez's 495.5 points. The third- and fourth-placed pro competitors are likewise separated by the narrowest of margins, with Motul-Autoplus driver Pacho Blanco (431) just ahead of Auto Industriya's Jason Choachuy (430) by a single point. R33 Car Exchange proprietor Raymond Ronquillo lies in fifth place with 416 points.
Amateur division:
1. Mike Tuason (TRS) - 508 points
2. Norman Agojo (Goodyear) - 485 points
3. Bjorn Ongtiabok (TRS) - 477.5 points
4. Mark Rosca (Forced Speed-Teleserv) - 460 points
5. Ryan Agoncillo (Yellow Cab) - 424 points

Pro division:
1. Gio Rodriguez (A-Toy Bodykits) - 504 points
2. Alex Perez (Yellow Cab) - 495.5 points
3. Pacho Blanco (Motul-Autoplus) - 431 points
4. Jason Choachuy (Auto Industriya) - 430 points
5. Raymond Ronquillo (R33) - 416 points
ADVERTISEMENT - CONTINUE READING BELOW ↓
Recommended Videos