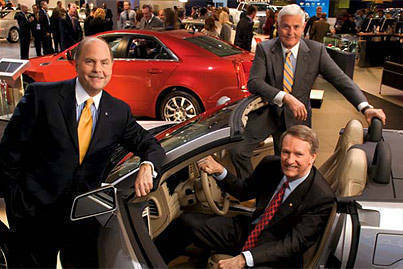 General Motors chief executive G. Richard Wagoner Jr. is leaving General Motors after 31 years of service as the United States auto industry undergoes restructuring.
Earlier reports said Wagoner's resignation is a condition the Obama administration asked in exchange for the additional funds from the government.
"Let me be clear: the United States government has no interest or intention of running GM," US President Barack Obama was quoted as saying in the reports.
He added that Wagoner's resignation was "not meant as a criticism" to the auto giant's chief executive but "a recognition that it will take a new vision and new direction to create the GM of the future."
Reports said GM currently owes $13.4 billion in government loans and $28 billion in bonds. The company also owes $20 billion worth of health care trust to its retirees.
In line with streamlining operations and cutting costs, GM has earlier said it will likely trim 20 percent of its workforce, or roughly 47,000 jobs worldwide as it focuses on core brands Buick, Cadillac, Chevrolet, and GMC.
ADVERTISEMENT - CONTINUE READING BELOW ↓
With Wagoner out of the picture, GM president and chief operating officer Fritz Henderson takes over as chief executive, while board member Kent Kresa sits as interim chairman.
(Note: Photo from the GM 2007 Annual Report shows former GM chief executive officer Rick Wagoner (foreground, right) with Fritz Henderson, the new GM CEO (foreground, left) and GM vice chairman Bob Lutz at the 2008 North American International Auto Show in Detroit.)