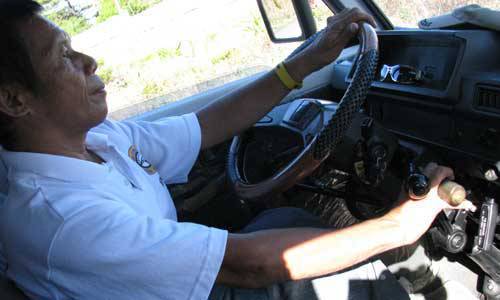 An organization for people with disabilities (PWD) who have the capability to drive a motor vehicle was launched to promote their enhanced mobility on the road.
PWDs Drivers Association of the Philippines, Inc. aims to empower people with disability who can run cars, founding president Jing Caringal said.
"We organized our group to show people that we exist; that even if we are disabled, we can still drive motor vehicles," Caringal said during the organization's launch in Tagaytay City.
People with disabilities can apply for a driver's license at the Land Transportation Office (LTO).
"All they have to do when applying for a drivers' license is show a medical certificate that says their medical doctor has deemed them fit to operate a motor vehicle and they'll undergo the same tests as everyone else," LTO evaluation unit head Eugene Peji said.
Continue reading below ↓
Recommended Videos
Motor vehicles may be modified with bolt-on kits to make driving easy for people with disabilities. Caringal said that imported equipment can cost as much as P25,000 to P50,000. Pinoys with disabilities, however, can be very ingenuous with their vehicles.
"The system I designed for my cars are relatively inexpensive at just around P2,500 each and I fabricated it with some help from my friends," Caringal said.
The system is typically built around a set of hand-operated levers which pushes down on the pedals, particularly for automatic transmission-equipped vehicles. Cars with manual transmission can be driven by PWDs through the use of a lever-operated cable that's attached to the throttle.
Peji said to make sure that a PWD-driven car is roadworthy, it is inspected by the LTO every year during the renewal of its registration.
The PWD Drivers Association will also help authorities watch for unlicensed or untrained people with disabilities who drive motor vehicles at the risk of getting in to an accident.
"If an unlicensed, untrained PWD causes an accident while driving, we wouldn't want that to reflect against the rest of us who've been driving as a PWD for years. Just because one PWD driver caused an accident doesn't mean we're all going to cause an accident," said association board member Armand Sta. Maria Rile.
The PWDs Drivers Association of the Philippines, Inc. may be reached at (+63917) 8870004 or via e-mail at pwddapi@yahoo.com.