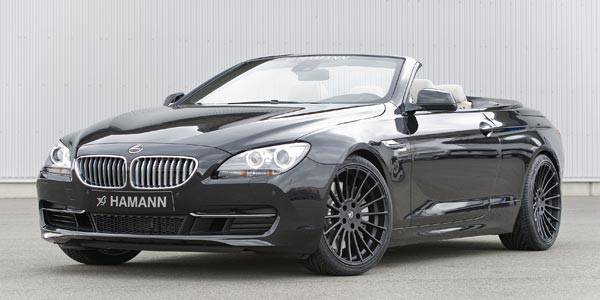 German car-tuning company Hamann Motorsport has released its latest creation: a sporty "individualization package" for the BMW 6-Series convertible. Hamann, for the uninitiated, specializes in transforming "ordinary" high-end cars into badass rides. The company does makeovers for such brands as BMW, Audi, Mercedes-Benz, Jaguar, Porsche, Ferrari, Aston Martin, Bentley, Lamborghini and even Mini.
For its latest project, Hamann focuses its morphing skills on the F12 6-Series, giving the car a set of 21-inch matte-black "Design Anniversary Evo" wheels. Hamann also lowered the car's center of gravity by some 30mm at the front and 25mm at the rear via "progressive suspension springs." At the back, the Hamann 6-Series sports a four-pipe exhaust system that boasts round 90mm tailpipes and a silencer. Inside, Hamann gave the 6-Series aluminum pedals, available in either silver or anodized black. Of course, Hamann logos are found fore and aft of the car.
As you can see, the mods on this car are very subtle and mostly aesthetic. Apparently, cars in this class are already so special straight out of the factory that modification jobs done on them should be very subdued to look classy. Overdo it--as many owners of much cheaper cars are guilty of--and you'll end up looking like an insecure fellow begging for attention.
Continue reading below ↓
Recommended Videos