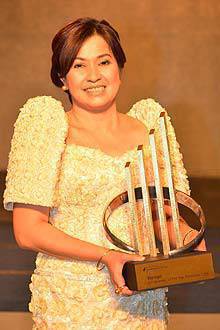 Hyundai Asia Resources (HARI) president and chief executive Maria Fe Perez-Agudo was named Entrepreneur of the Year at the prestigious Ernst & Young Entrepreneur of the Year Philippines (EOYP) awards for excellent entrepreneurship, leadership and community development.
The SGV Foundation, which organized the EOYP, cited Agudo for being a "trailblazer in the industry."
"Her marketing insights and strategic initiatives lifted Hyundai to become the third top-ranked automotive brand in the country in a span of less than 10 years," said SGV Foundation chairman and president Cirilo Noel.
Agudo, who finished a BS in Commerce (Major in Accounting) degree under a full college scholarship from St. Scholastica's College, Manila, and who completed a leadership development program at the Wharton School of Business of University of Pennsylvania, was among the final six in a batch of 17 outstanding entrepreneurs in this year's EOYP.
"This recognition caps our 10th anniversary as a corporate citizen of the Philippines," Agudo said. "We could not have flown to such heights of success without our loyal, dynamic, performance-oriented employees and dealership network that are committed to living HARI's core values: customer focus; teamwork; passion; integrity; results-oriented. These are the same values that I believe are behind the success of a Filipino entrepreneur. With this recognition, we are inspired to work even harder to become a trusted lifetime partner of Filipinos."