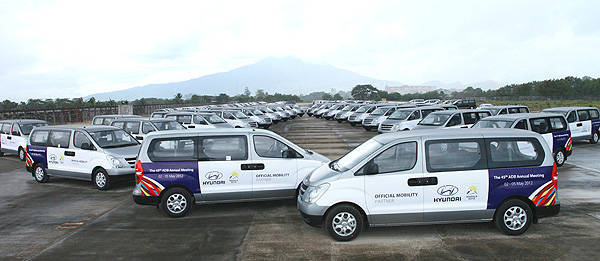 If you're planning to buy a Hyundai Grand Starex, then perhaps waiting a week or two would be the perfect time as Hyundai Asia Resources will put on sale all 50 units of the van that it has lent to Asian Development Bank for its 45th Board of Governors' Meeting.
According to Paeng Batuigas of HARI's marketing services department, the 50 Grand Starex units are of the TCI GL 10-seater variant equipped with a manual transmission. Based on HARI's price list for April, this particular variant is currently being sold at P1.283 million.
So, what will happen to these vehicles once the ADB event wraps up? With the Starex units being used for roughly a week, HARI will then have the vans detailed before they will be sold as pre-owned units through its dealers.
"We don't know yet how much we'll be selling the Starex for after the event, but we're looking at a P170,000 to P175,000 discount," added Batuigas.
Do you think that's a reasonable enough price cut, considering that the units will be used for about a week and that they will probably be babied since foreign delegates will use them? If you don't agree with the discount, how much do you think HARI should sell the vans for?
Continue reading below ↓
Recommended Videos
To the comment box, people!