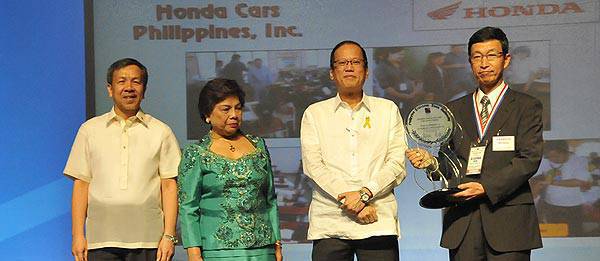 Honda Cars Philippines' active participation in numerous corporate social responsibility projects was recognized by the Philippine Economic Zone Authority (PEZA) as the agency presented the company with the Outstanding Community Projects Award during the 2011 PEZA Investors' Awards Night.
President Benigno Aquino III was joined by Department of Trade and Industry (DTI) secretary Gregory Domingo and PEZA director general Laila de Lima in awarding the plaque to Honda Cars Philippines "in recognition of its significant relationship with the community through scholarship programs, free medical and dental services, tree planting, gift giving or similar pro-community projects."
Honda Cars Philippines has always been involved in numerous pro-community, pro-society projects. Among the Japanese carmaker's frequent corporate social responsibility projects is to conduct on-site roadside assistance to motorists through its Honda Emergency Assistance Team program every Holy Week as its public service and road safety advocacy; participate in numerous tree planting activities as its commitment to leave blue skies for the next generation; assist schools by offering logistical and manpower support to clean and prepare classrooms for the incoming students through its Brigada Eskwela project; coordinate with the Department of Health and Philippine National Red Cross to regularly conduct blood letting programs for patients in need of immediate blood transfusion; and to reach out to elders and street children every year by donating to Bahay ni Maria, a home for abandoned elders and street children in Calamba, Laguna run by missionary nuns.
Continue reading below ↓
Recommended Videos
"Honda Cars Philippines, Inc., in partnership with local government units and non-government organizations, will continue giving back to the community in appreciation of the market's passionate support to the brand, its products and services," the company said in its statement.
In photo: DTI secretary Gregory Domingo, PEZA director general Laila De Lima, His Excellency, President Benigno Simeon Aquino III and HCPI executive vice president Mitsuru Okamoto