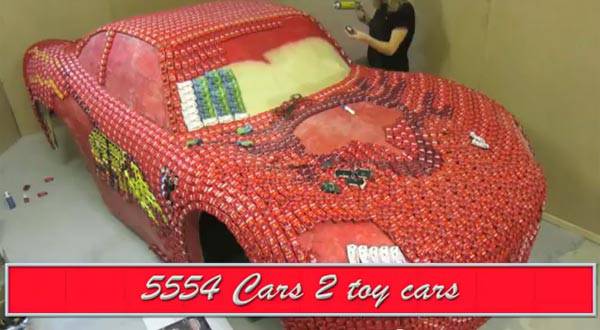 If you could watch just one YouTube video this week, we seriously suggest you watch this. Especially if you're a fan of Lightning McQueen and Cars company, and most especially if you collect Mattel's die-cast toy line dedicated to Pixar's popular animated film. In promoting the release of Cars 2 in 3D Blu-ray format, Pixar commissioned model maker Jay Sheppard to build a life-size model of Lightning. With what, you ask? With 5,554 pieces of Cars 2 die-cast toys!
Sheppard required over 100 hours to finish the project. The total cost? Let's see: If we multiply 5,554 with P500 (the per-piece price of the die-cast toys at Toys 'R' Us stores in the Philippines), that amounts to P2,777,000!
Enough with the math. Watch the video. Now.
If you're viewing this on a mobile device and can't see the video, please click here.
ADVERTISEMENT - CONTINUE READING BELOW ↓
ADVERTISEMENT - CONTINUE READING BELOW ↓
Recommended Videos