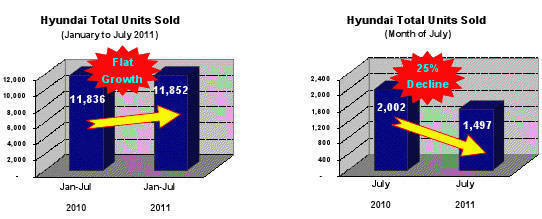 Hyundai Asia Resources, Inc. (HARI) said demand for its vehicles remained strong in July but limitations in product availability resulted in a flat sales performance for the brand.
Data from HARI showed that passenger car sales from January to July stood at 5,650 units, 15 percent higher than sales in the same period last year. Light commercial vehicle sales, however, fell 10 percent to 6,202 units.
Hyundai closed the seven-month sales period with a total of 11,852 units out of its showroom, just a tad higher than the 11,836 units the brand sold from January to July 2010.
"Domestic demand remains strong as reflected by rising customer reservations and growing customer inquiries at Hyundai dealership showrooms and the website," HARI said in a statement. "However, supply constraints failed to keep pace with consumer demand and deliver back orders."
Impact of shipment delays was particularly felt by Hyundai in July when sales fell 25 percent from the same month last year. While Hyundai enjoyed a one-percent rise in passenger car sales, it suffered a 47-percent decline in light commercial vehicle sales. This led to July 2011 sales reaching only 1,497 units from 2,002 units in the same month last year.
Despite this setback, HARI expects Hyundai sales to remain positive in the next few months. The company said, however, that growth will depend on supply issues, global market volatility, and the performance of the Philippine peso against other currencies, which affect inflation and interest rates that are, in turn, supporting auto loan demand and credit growth.
Continue reading below ↓
Recommended Videos
"As global production stabilizes to meet strong local demand requirements, we are working continuously to improve our customer experience and grow sustainably against an industry landscape still reeling from the effects of the Japan disaster," HARI president and chief executive Maria Fe Perez-Agudo said.