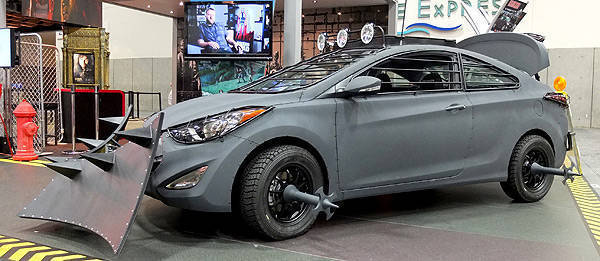 Robert Kirkman, the creator of The Walking Dead comic book series that inspired the TV series of the same title, and Hyundai Motor America have unveiled at the 2012 San Diego Comic-Con what has come to be known as the Zombie Survival Machine.
Designed by Kirkman and fabricated by Design Craft, the Zombie Survival Machine is actually a Hyundai Elantra Coupe that has been modified to withstand the zombie apocalypse. Some of the features that the car possesses for fending off zombies are a front-end custom zombie plow with spikes, armored window coverings, a roof hatch to allow passengers to thwart attacking walkers, a trunk full of electric and pneumatic weaponry, front- and back-end floodlights, and spiked all-terrain/rally-type tires.
"Our custom Elantra Coupe Zombie Survival Machine is the ultimate car for The Walking Dead fans and anyone who wants to survive a zombie invasion," said Hyundai Motor America marketing vice president Steve Shannon. "We are excited for fans to come and experience the Elantra Coupe and GT in a unique, post-apocalyptic way."
Check out the video below on how the car was put together. And just in case you're wondering if Gary Castillo, the fabricator of the Zombie Survival Machine, is a Filipino, he actually is.
Continue reading below ↓
Recommended Videos
If you're viewing this on a mobile device and can't see the video, please click here.