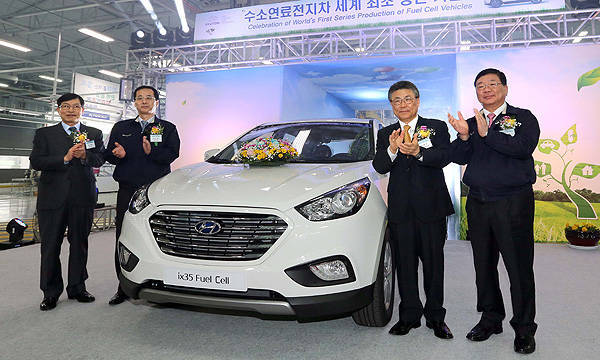 Hyundai is now officially the world's first carmaker to mass-produce fuel-cell cars with a white ix35 Fuel Cell being the first to roll off its assembly line at its Ulsan, South Korea, plant.
"With the ix35 Fuel Cell vehicle, Hyundai is leading the way into the zero-emission future," said Hyundai Motor vice chairman Eok Jo Kim at the launch ceremony. "The ix35 Fuel Cell is the most eco-friendly vehicle in the auto industry and proves that hydrogen fuel-cell technology in daily driving is no longer a dream."
According to Hyundai, the ix35 Fuel Cell unveiled at the ceremony will be one of 17 units earmarked for fleet customers in Denmark and Sweden.
As part of its initiative to be carbon-free by 2025, the municipality of Copenhagen in Denmark will reportedly be supplied with 15 ix35 Fuel Cell vehicles for fleet use, while the remaining two units will be supplied to Skane in Sweden.
Hyundai supposedly plans to build 1,000 ix35 Fuel Cell vehicles by 2015 for lease to public and private fleets in Europe where the European Union has established a hydrogen road map and initiated construction of hydrogen fueling stations.
The ix35 Fuel Cell can reportedly be refueled with hydrogen in only a few minutes. It accelerates from zero to 100kph in 12.5sec, has a top speed of 160kph, and can travel 594km on a single charge.