<>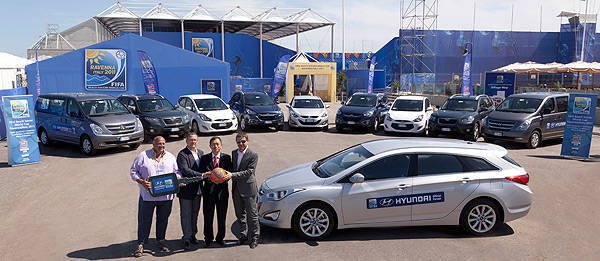 Hyundai has been designated as the official automotive supplier of the 2011 FIFA Beach Soccer World Cup, which will be held at Marina di Ravenna in Italy from September 1 to 11. As such, the Korean car company will be providing a fleet of 50 vehicles to transport FIFA officials, national teams, referees and media representatives throughout the tournament.
The 50-vehicle fleet will include the new i40, the compact crossover SUV ix35 (Tucson), the mid-size crossover SUV Santa Fe, the multi-purpose vehicle ix20, and the H-1 (Starex) minibus for transporting larger groups.
Hyundai is proud of its 12-year strong association with FIFA, during which the company has demonstrated itself to be a reliable and effective partner by serving as the official automotive supplier to all FIFA-sanctioned events around the world. Hyundai is currently one of FIFA's top partners and has extended its strategic sponsorship agreement with FIFA to cover the 2014 FIFA World Cup in Brazil, the 2018 FIFA World Cup in Russia, and the 2022 World Cup in Qatar.