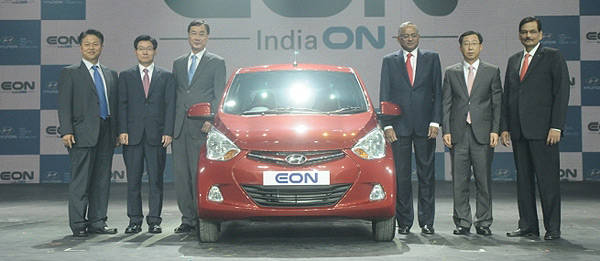 Hyundai has finally launched the Eon, a city car based on a completely new platform and sold exclusively in India.
"Hyundai has always led the way when it comes to innovations and with the Eon we wish to continue our legacy in India of producing world-class products. Eon has been specifically built keeping in mind varied Indian conditions and special requirements of our esteemed Indian customers. The Eon will further expand our market share in the fast-growing small car segment in the Indian market," said Hyundai Motor India managing director and chief executive, Han Woo Park.
A 0.8-liter three-cylinder engine with an output of 55hp and 75Nm of torque powers the Eon which, mated to a five-speed manual transmission, gives the car a mileage of 21.1km/L, reportedly making it the most fuel-efficient model in its highly competitive segment.
Like today's Hyundais, the Eon's design is completely based on the Korean carmaker's "fluidic design" philosophy. Despite its small size, though, Hyundai claims the Eon "offers unmatched space with best in class width, wheel base and boot space." On top of the spacious cabin and large boot, the Eon also gets multiple storage space, multiple bottle and cup holders, a spacious glove box and a practically designed dashboard that can store numerous small utility items.
While the Eon is targeted as an entry-level car, it comes standard with features like centrally positioned air-condition vents with rotary-type knobs, front power windows, internally adjustable mirrors, tilt steering, keyless entry, remote fuel and tail gate switches, central locking, front door full armrest, front seat lamp, rear seatbelt knuckle holder, rear speaker grill, rear parcel tray, two-DIN integrated audio system with MP3/USB/Aux-in/i-Pod connectivity, driver's airbag, front fog lamps and an immobilizer that prevents the car from starting without the correct key.
The Eon also comes with an alternator management system (AMS), an eco-efficient feature developed by Hyundai especially for Indian customers to deliver more eco-efficient driving by controlling the power supply to the battery to relieve the engine's workload and reduce fuel consumption and emissions while decelerating and idling. A manual shift indicator in the Eon also prompts the driver whenever a gear shift is required. Together, the AMS and gear shift indicator ensures the Eon's better fuel economy and extended battery life and adds to the customer's benefit.