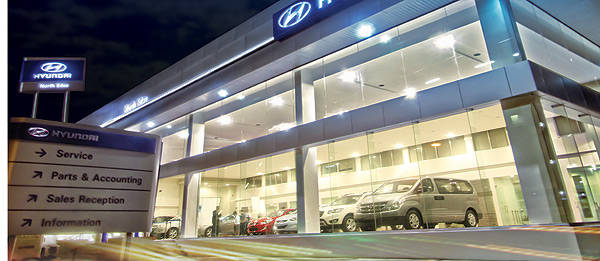 A new Hyundai showroom is opening its doors to prospective car buyers as Hyundai North EDSA is now officially operational with its floors stocked with the Korean carmaker's complete line-up.
Owned and operated by PGA Cars, Hyundai North EDSA's opening is symbolic as the company that now officially distributes luxury car brands like Audi and Porsche can trace its humble beginnings to running Nissan North EDSA in the very same location in 1993. In essence, the opening of Hyundai North EDSA brings PGA Cars back to its roots by selling a mainstream brand to the market as opposed to its more famous, niche-market German car brands.
Located on a 10,553sqm lot in Balintawak, Quezon City, Hyundai North EDSA easily boasts one of the largest Hyundai showrooms in the Philippines at 800 sq. meters. Its service bay is also one of the biggest as it can ably accommodate over 50 cars simultaneously.
What makes Hyundai North EDSA stand out, however, compared to not just the other Hyundai dealers but with majority of the dealers of other mainstream car brands is the service and experience it offers.
"When you buy a Hyundai car, regardless of the dealership it comes from, you'll be getting the same car," said Lito Jose, Hyundai North EDSA's vice president of operations. "That's why at Hyundai North EDSA, we're not selling the cars; we're selling the service and experience that normally comes with buying a luxury car."
Continue reading below ↓
Recommended Videos
Jose added that with Hyundai North EDSA, PGA Cars is bringing to its latest dealership its expertise that comes with selling premium car brands. Besides offering premium amenities like a VIP lounge, business center, a kids' corner and a leisure area equipped with a home movie theater set and Wi-Fi internet access, Hyundai North EDSA also has a hand-over area for new car buyers that's at par with those of luxury car dealerships in the metro. Hyundai North EDSA also offers pick-up and delivery services where the dealership's authorized personnel can get vehicles for repair or maintenance and bring it back to its customers.
According to Jose, though Hyundai North EDSA officially opens its doors today, the dealership has already been selling cars as early as August.
"The showroom wasn't finished then so we were selling the cars from the service area," Jose recalled.
Hyundai North EDSA sold 30 cars in August and 60 in September.
"Hyundai's new home in the auto hub north of Metro Manila embodies our brand slogan 'New Thinking, New Possibilities' in a fresh new way as every dealer us now considered a Hyundai ambassador," said Maria Fe Perez-Agudo, president and chief executive of Hyundai Asia Resources, the Philippines' exclusive distributor of Hyundai vehicles. "We envision Hyundai North EDSA to be another outstanding leader in our ever-growing dealership family, exceeding Hyundai's global standards of excellence in auto dealer services."