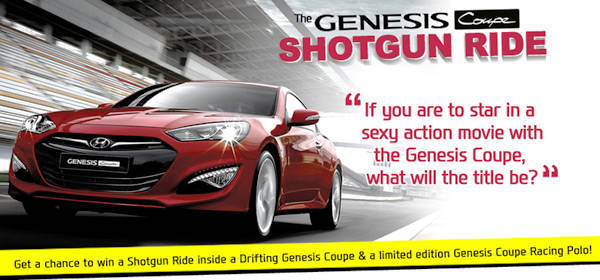 Do you like the Hyundai Genesis Coupe? In particular, do you fantasize about riding in a drifting Genesis Coupe? Well, Hyundai Asia Resources Inc. (HARI) is giving you a chance to fulfill your dream.
On Saturday, September 8, HARI will be launching the 2013 Genesis Coupe to the public at the Quirino Grandstand in Manila City. It will coincide with the third round of the Lateral Drift Championship Series, which Hyundai is sponsoring as well.
At the event, HARI will treat five Genesis Coupe fans to a shotgun ride on-board the current model to be driven by drifters Atoy Llave and Gio Rodriguez. How to win this shotgun ride?
Simple. All you have to do is go to the contest page on Facebook and then like it. Then answer this simple question: "If you are to star in a sexy action movie with the Genesis Coupe, what will the title be?"
Hyundai will then pick the five (5) best answers to determine the "Genesis Coupe shotgun ride" winners. The deadline for the submission of entries is on September 7, Friday, at 3pm.
According to HARI, everyone may join except its employees or those of its dealership network. Also, those joining may submit as many entries as they want. Lastly, only original entries will be accepted, which means you may not submit the titles of Bong Revilla's movies (which are always brilliant).
Continue reading below ↓
Recommended Videos
Go and try your luck then.