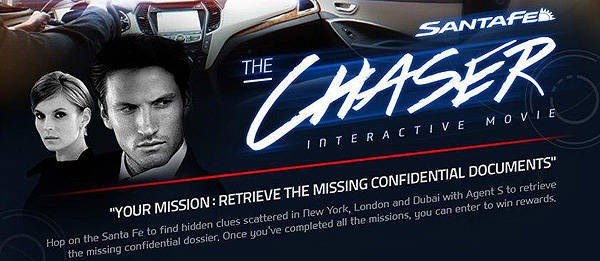 Hyundai Motor Company, through its Philippine-market distributor Hyundai Asia Resources Inc., wants you to get behind the wheel of the Santa Fe while solving a mystery--all in the comfort of your home. And if you're lucky enough, the Korean carmaker might even give you a prize for the effort.
With the Santa Fe: The Chaser game and interactive movie, people can experience the popular midsize SUV in virtual reality while driving around three of the world's biggest cities--London, New York and Dubai--and trying to retrieve lost, confidential documents. Three tasks need to be completed in each city.
Making the game highly interactive is that the three movies--released in succession on January 23, February 4 and February 12--may utilize a user's personal profile and photos on Facebook.
The Santa Fe: The Chaser game will run until March 5. To join, users must go to Hyundai Philippines' Facebook page to click and authorize the Santa Fe: The Chaser application.
As an added bonus, those who have accomplished all three missions can win any of the following: one 11-inch Macbook Air; three 16GB iPad Minis; and two $50 worth of Facebook credits.
The winners will be announced on March 12 and notified via Facebook and e-mail.
Continue reading below ↓
Recommended Videos