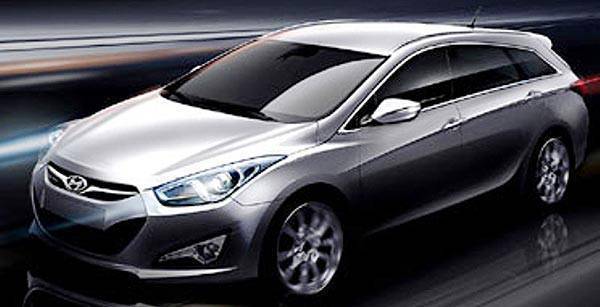 Hyundai has released a teaser of a new midsize sedan and wagon destined for Europe. The car is intended to replace the fifth-generation Sonata that's still being sold in the region.
Fittingly styled at Hyundai's European design headquarters, the car is the latest model to carry the Korean carmaker's "fluidic sculpture" design language. Dubbed as the i40, it will make its official debut in wagon form at the 2011 Geneva Auto Show while the four-door sedan will become available in the third quarter of next year.
Since a wagon variant of the Sonata is not available in the United States, Hyundai-Blog.com reported that sources close to Hyundai revealed that the i40 wagon will reach the country by 2012.
The i40 will be offered with a wide range of highly-advanced four-cylinder gasoline and diesel engines. The entry-level i40W will be powered by Hyundai's latest 140hp 1.6-liter GDI engine while the range-topping variant will pack a 177hp 2.0-liter mill under the bonnet.
Diesel-powered variants will be offered with an all-new 1.7-liter CRDi engine which produces 115hp for the low output model and 136hp for the high output model. A more potent 2-liter R-diesel engine which churns out 177hp will be added to the range later, though, and it will be mated to Hyundai's all-new dual clutch automatic transmission.