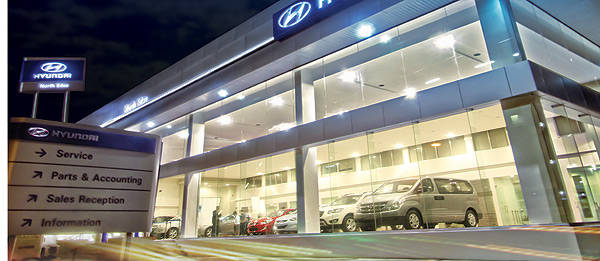 Hyundai Asia Resources (HARI) posted strong passenger-car takeup last year but a decline in light-commercial-vehicle sales kept Hyundai sales flat in 2011.
Data from HARI showed that 10,700 passenger cars rolled out of Hyundai showrooms in 2011, 13 percent higher than the record posted in 2010.
"Buyers snatched game-changing newcomers Accent and Elantra, and continued to discover the uniqueness of the Sonata," HARI said in a statement.
Passenger-van sales, however, declined 28 percent to 2,947 units and midsize sport-utility vehicles were down 23 percent to 1,841 units. Compact SUV sales were flat at 4,346. These figures resulted in a 10 percent fall in light-commercial-vehicle sales.
"Global supply of the Grand Starex and the Tucson continue to fall short of strong demand of the light-commercial-vehicle segment," HARI added.
By the end of 2011, HARI said overall sales of Hyundai vehicles were up just one percent from 2010.
"This one-percent full-year growth, which defined the total industry's three-percent drop in sales, was driven by sustained market interest in Hyundai brands across the passenger car segment," HARI said.
With its still positive growth in 2011, HARI expects the Hyundai brand's popularity to keep growing in the Philippine car market.
"HARI remains optimistic in the ability of the Philippine economy to navigate through the period of global uncertainty and thus looks forward to better sales outlook this year," the company said.
Continue reading below ↓
Recommended Videos
What's your fearless forecast on Hyundai sales in 2012?