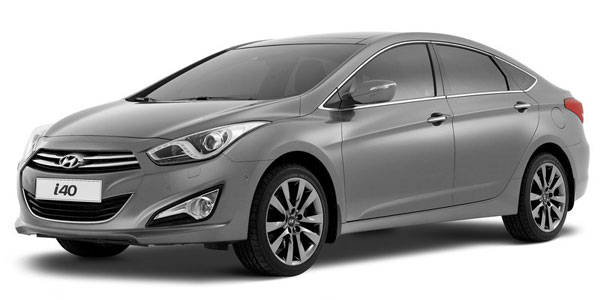 Apparently, the stylish Sonata is not a good enough D-segment car for the European market, so Hyundai decided to just build another one and called it the i40, which will be on display at the Barcelona Motor Show from May 14 to 22. It is expected to go on sale in that continent in the fourth quarter of the year, according to the official press release. This sedan was designed and engineered at Hyundai's European R&D center in Russelsheim, Germany.
"The reveal of the sedan represents the next step of the i40's introduction to the European market, following the very positive reception for the i40 tourer," says Hyundai Motor Europe senior vice president and COO Allan Rushforth in a press statement. "We have ambitious but achievable targets for the i40 range, expecting to sell 60,000 units in a full year and building on the momentum Hyundai has gained in Europe in recent years. The launch of the i40 will help us reach a three-percent market share by the end of 2011."
Measuring 4,740mm long, 1,815mm wide and 1,470mm high, the i40 is a tad shorter and narrower than the Sonata but is just as tall. Hyundai claims the i40 sedan has best-in-class headroom (1,025mm), shoulder room (1,455mm) and legroom (1,170mm) for the front passengers. The i40 is reportedly based on the same platform as the Sonata.
Continue reading below ↓
Recommended Videos
There are four available engines for the i40--two gasoline and two diesel units, all of which are said to be Euro V-compliant. With diesel models accounting for 75 percent of total car sales in Europe, Hyundai believes the most popular engine choice for the i40 will be the 1.7-liter diesel unit developing 134hp.
The i40 will also mark the debut of Hyundai's new 2.0-liter four-cylinder gasoline engine called Nu. It delivers a maximum output of 175hp and a maximum torque of 213Nm.
So, how do you like the styling of the i40? Do you think it looks better than the Sonata? Is this the midsize sedan that Hyundai should be selling here instead?