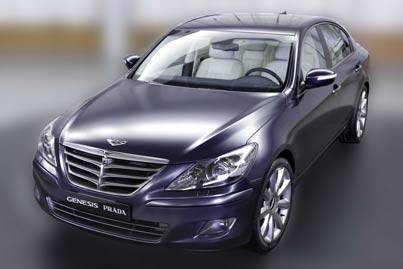 Korean carmaker Hyundai Motor Co. has teamed up with Italian luxury brand Prada for the limited edition Genesis Prada.

Just how limited is it? Hyundai and Prada are making only three units of this luxurious sedan - and only two will be available to the public.

Scoring the Genesis Prada will not be so easy either as interested parties will have to beat other bidders to acquire the posh ride. Proceeds of the auction will be donated to a charitable institution which will be chosen at a later date.

Hyundai and Prada unveiled the first of the three Genesis Prada units at the Seoul Motor Show on April 2, over four months after they started working on the vehicle at the Korean carmaker's research and development office in Namyang and at the Italian firm's design center in Milan.

Prada designed the Genesis to carry a matte metallic midnight blue finish while a dark matte plated gold takes the place of chrome in the car's emblem, radiator grill and outer handles.

"For the interior, the dashboard and the upholstery have also been revisited and artisan-crafted in "saffiano" leather - the top quality leather that, more than any other, is identified with the Prada brand - to obtain a luxurious and sophisticated finish," Hyundai said in a statement.

The Genesis Prada adds to Hyundai's Genesis lineup, which became more popular when it was chosen as the 2009 North American Car of the year.
Continue reading below ↓
Recommended Videos