You're presented with two choices: Option A, you're left in a room with any car of your choosing for 24 hours. Option B, you get to mill about an art exhibit for an entire day—say Art Fair PH 2019, which is currently happening at The Link in Makati City.
As a car guy, which would you go for? Probably Option A, right? We get you, but no one is going to be leaving his or her Pagani or McLaren alone in a room with you, at the mercy of your oily, impure fingers anytime soon. So you're really just left with Option B.
So, Art Fair PH 2019 it is then. Thankfully, there's something for gearheads at this year's exhibit, too.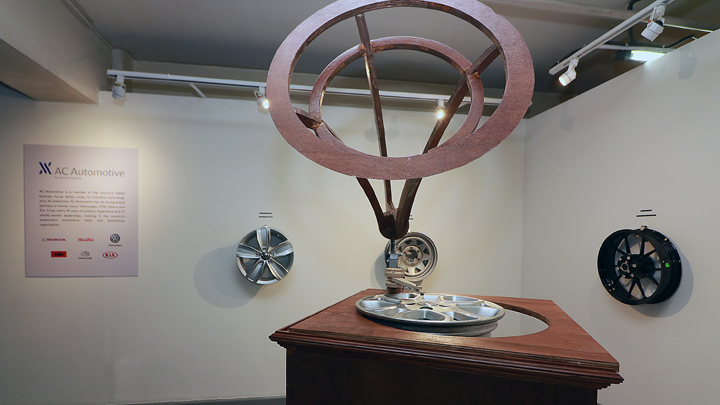 Continue reading below ↓
Recommended Videos
Artist Carlo Jaucian's Car Keys—a "unique retooling of the gramophone concept, which repurposes the car wheel into an amalgamation of visual and musical symmetry"—utilizes an infrared proximity sensor to turn topographical differences on a rim's surface into digital music.
"This so-called 'data art' or 'digital melody' infuses mathematics and technology with human emotions as evoked by musical stimuli," says AC Automotive, which is showcasing Jaucian's work at this year's show. "Jaucian's Car Keys best illustrates how passion can drive the seemingly cold and calculating precision of automobile engineering and design into unexpected—and often amazing—outcomes."
Sounds complex. The only way to really grasp how this thing works is to see it for yourself. The show will run until February 24, so drop by while you can.