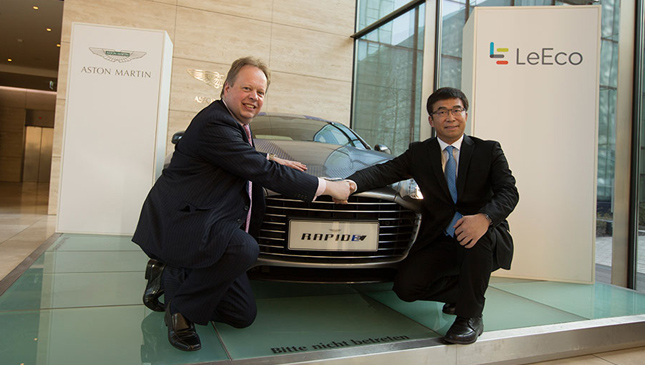 Aston Martin seems to be serious about an electrifying solution to our planet's pollution problem--literally. We're referring to the RapidE concept co-developed by the global tech firm LeEco. In fact, the two companies are so serious about the project that they recently signed a Memorandum of Understanding (MOU) to further pursue their goal of bringing an electric vehicle to market soon.
The partnership actually began last year when Aston Martin and LeEco commenced work on a connected Rapide S. The luxury sedan utilized the Internet to hook up with other electric cars for safe travel while on the road. The concept was even shown at this year's Consumer Electronics Show in Las Vegas.
After last month's successful exhibit, the two partners are now ready to move on to the next phase of their agreement. This involves conceptualizing and building a range of electric vehicles. They will each utilize their respective strengths to come up with a car (or lineup of vehicles) that will run on what they believe is the propulsion source of tomorrow: electricity.
The plan is to bring this model to market as early as 2018. And by the looks of it, they are on track. What they are now working on is trying to look for solutions to make the RapidE sports sedan even more enjoyable to drive while solving shortcomings like battery range (or the lack thereof) and other factors that tend to prevent most people from opting for an electric car over a traditional gasoline-powered model.
Whether they're powered by gasoline-electric motors, clean diesels, hydrogen or pure electricity, we just hope that the cars of tomorrow will still provide drivers with an enjoyable experience behind the wheel. After all, that's the whole point, right? Well, aside from saving the planet, that is.
ADVERTISEMENT - CONTINUE READING BELOW ↓
ADVERTISEMENT - CONTINUE READING BELOW ↓
Recommended Videos